Guess you could call it character development
10/19/09 11:36 AM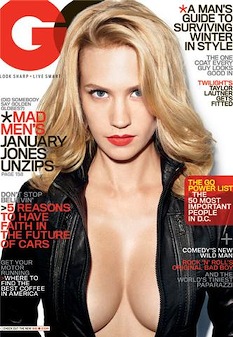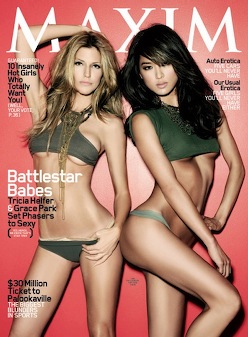 By ED BARK
The November issues of
Gentlemen's Quarterly
and
Maxim
perhaps won't be purchased for the articles.
Particularly
GQ
, whose cover girl, January Jones, otherwise emotes as Betty Draper on AMC's
Mad Men
. Keeping up with these Joneses will present a formidable challenge for a certain other magazine's Miss November. By the way, one of her ex-boyfriends is Ashton Kutcher, who apparently didn't think much of her, um, acting prowess.
Maxim
counters with
Battlestar Galactica
's Tricia Helfer and Grace Park, both of whom play Cylons. "Set Phasers to Sexy," the magazine instructs.
OK, fine, but January definitely gives Earth the edge in this battle of sexploitation cover shots. Her TV husband, stray cat ad man Don Draper (Jon Hamm), has got to be out of his mind.