A starring Steven Seagal punches up ReelzChannel's first scripted series (he again plays with guns, too)
04/01/12 11:00 PM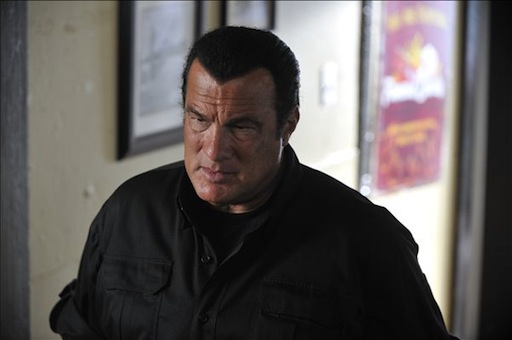 Steven Seagal will be hard-punching his way through True Justice.
ReelzChannel photo
Premiering:
Friday, March 30th at 8 p.m. (central) on ReelzChannel

Starring:
Steven Seagal, Sarah Lind, Warren Christie, Meghan Ory, Williams "Big Sleeps" Stewart

Produced by:
Steven Seagal, Nicolas Chartier, Phillip B. Goldfine, Peter Graham, Stephen Hays


By ED BARK

Long ago and far away, Steven Seagal had a pretty high-profile big-screen career as the brawny bloodletter of Hard to Kill and a pair of Under Siege outings.

Now he's hiding in plain sight on ReelzChannel, still best known as the network that aired The Kennedys miniseries after History Channel bankrolled it and then backed away.

Seagal, who turns 60 next month, looks as though he still could make Lou Ferrigno cry for his mommy. But as the star of Reelz's first original scripted series, True Justice, he's become pretty much a stationary fist-fighter/wrist-breaker.

"Nobody listens nowadays anymore," he laments after a crum-bum drug dealer is told to do everyone a favor and stay down. But he doesn't, requiring Seagal to knock him senseless with the no-sweat efficiency of a Hell's Angel kick-starting his chopper. Damn it, isn't he ever going to try musical comedy?

Seagal's jet-black hair looks as though it comes straight from a shoe polish can, with its triangular cut sharp enough to serve as a directional sign. He plays hard-driving but cool-tempered Elijah Kane, whose SIU (Special Investigative Unit) takes on assorted tough guys in a never-ending battle to keep Seattle safe.

Elijah talks in a rasp bordering on a whisper. But unlike Chuck Norris in Walker, Texas Ranger, he bites off fairly big chunks of dialogue during the course of the first two episodes sent for review. Cordell Walker would simply say, "Let's roll." Elijah Kane says, "We gotta do what we gotta do to get our job done. Ya see? We gotta get the bad guys and protect the good guys, man. That's why we're here. You know that."

Get it? Got it? Good. Um, Seagal himself wrote the script.

The four law enforcers under Elijah's wing are by-the-booker Andre Mason (William "Big Sleeps" Stewart); sultry, hard-nosed Juliet Sanders (Meghan Ory); quick-tempered Brett Radner (Warren Christie) and plucky rookie Sarah Montgomery (Sarah Lind).

A more familiar face, Gil Bellows (Ally McBeal, drops in to guest-star as a conscience-less Russian drug lord named Nikoli Putin, who's not featured until the April 6th second part of this saga. Bellows goes by "Gill" in the on-screen credit list, perhaps because he didn't want anyone to fully make the connection. His signature scene is at a strip club, where Nikoli deduces that Juliet and Sarah are coming onto him as undercover cops. He's otherwise mostly around to take an inevitable climactic beating from our hero.

It should be said, though, that Seagal brings some presence to this prototypical role. The guy can still fill a screen -- even more so on a smaller one.

His character also keeps saying "man." Because after all the "atrocities and just terrible things" he's seen, "You just lose your faith in mankind, man." Urp.

It's all enough to make Elijah very much in favor of the death penalty and very much against undue rules and regulations. A "dirty" killer cop, who's also a racist, really makes his blood boil. But there's no need to raise one's voice.

"I just wanna see you fry," he says measuredly. And if life imprisonment instead interferes, well, there are ways to ensure a never-ending living hell behind bars.

True Justice's second episode includes a particularly grisly mass murder scene and ample automatic weapons fire. But the recurring strip club visits are less revealing than any typical day at the beach. Violence wins again.

Reelz publicity materials say that each episode of True Justice will include a "Seagal in 60 Seconds" segment highlighting one of his previous movies and then informing viewers where they can see it via PPV or Video on Demand.

Wonder if they'll ever get around to latter year Seagal classics such as Pistol Whipped, Machete or Today You Die.

The marginally watchable True Justice seems as though it just has to be a cut above any of those. But I'll leave that research to others.


GRADE:
C-minus