Brute camp: Spike TV's 4th and Long finds Irvin throwin' down
05/17/09 08:28 PM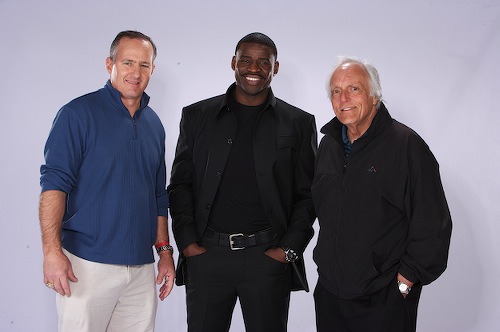 All smiles for now: Bill Bates, Michael Irvin and Joe Avezzano
Premiering:
Monday, May 18th at 9 p.m. (central) on Spike TV
Starring:
Michael Irvin, Bill Bates, Joe Avezzano, other former/current Cowboys and 12 NFL hopefuls
Produced by:
Todd Nelson, JD Roth, Michael Irvin
By ED BARK
First off,
Fourth and Long
isn't for the faint of stomach -- whether you're a participant or a viewer.
There's a whole lotta ralphin' goin' on during Monday's premiere, with would-be Dallas Cowboys receiver Montrell Jones the star player in this particular competition before host/taskmaster Michael Irvin implores him to "get that sickness out of you!"
No one can accuse Irvin and his two principal henchmen, ex-Cowboy Bill Bates and former special teams coach Joe Avezzano, of running a cushy Camp Cupcake at the Cotton Bowl. That's where 12 NFL washouts gather to earn a single berth on the 80-man Dallas Cowboys training camp roster. You can feel the pain in the first hour, where an intimidating, clad-in-black Irvin makes it clear that he's not passing out any roses.
"I don't want to hear any of that (bleep) about a reality TV show," he barks, notifying one and all that this is a football tryout camp that won't tolerate any signs of weakness.
Avezzano later lobs the line of the night: "We love the Dallas Cowboys. So we can't turn over to them some slap-dick that just thinks that this is some frivolous little thing going on here."
"Coach Joe" handles the six receivers, Bates takes charge of the defensive backs and a scowling Irvin presides as Major Payne in a 10-episode series that should have more than enough violence and upchucking to please Spike TV's young male target audience. Also appearing in Monday's opener are former Cowboys Nate Newton (who collects the contestants' cell phones and other trinkets) and Drew Pearson, purveyor of a pep talk about how he, too, was an undrafted free agent.
Cowboys owner Jerry Jones also makes a cameo appearance, theatrically shaking hands with Irvin in the opening minutes before telling him, "Give me a ballplayer."
All of the hopefuls have excuses as to why "I'm not in the NFL." They range from injuries to too much partying to duplicitous agents. Luke Swan, a 24-year-old receiver from Uncle Barky's alma mater, the University of Wisconsin-Madison, tore his hamstring off the bone as a college player. But now, "I'm back. I'm healthy. I've trained hard. I want my opportunity."
They arrive in the dead of night at the Cotton Bowl before Irvin makes a grand entrance to the sound of martial music.
"It's fourth and long, gentlemen," he informs his supplicants. "You think you got what it takes to move the chains in your life?"
Rather than a mini-manse, the 12 hopefuls end up taking residence in the Cotton Bowl locker rooms, where they'll spend their nights recovering from their days.
Day One is a hellish combination of full-contact punt covering drills -- "the basic rule is someone's gonna kick someone else's ass," says Avezzano -- and a series of 110-yard runs that end up totaling 1,980. Irvin witnesses enough vomiting and gasping to make him wanna puke.
"I'm seeing guys kneeling down when you've got an opportunity of a lifetime," he rages. "You've got to have the desire to override your fatigue."
One hopeful is sent home Monday after Irvin, Avezzano and Bates convene in the "War Room" to pass judgment after picking three possible evictees. Irvin then lowers the boom: "This
is
the end of the line. The Cowboys cannot use you,"
In next week's episode, the Cotton Bowl field is hosed down into a mud bath to simulate bad weather conditions. In reality, it's a device to make
4th and Long
an even nastier, splashier picture show.
Whoever emerges to make the Cowboys' pre-season roster seemingly will have earned his spot. This is a show that at times makes Marine Corps boot camp look like Jellystone Park. Irvin and company ride these would-be Cowboys the way a cowboy breaks a bronc. Oddly enough, that's entertainment.
GRADE:
B