Covert Affairs gives USA network another potential perennial
07/12/10 03:40 PM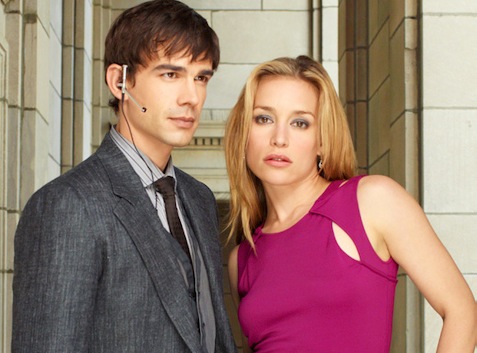 Christopher Gorham, Piper Perabo of Covert Affairs. USA network photo
Premiering:
Tuesday, July 13th at 9 p.m. (central) on USA
Starring:
Piper Perabo, Christopher Gorham, Peter Gallagher, Kari Matchett, Anne Dudek
Produced by:
Doug Liman, Dave Bartis
By ED BARK
Melodically named Piper Perabo gets a much more standard issue TV moniker in USA network's
Covert Affairs
, which rises a rung or two above the gratingly ordinary.
Launching Tuesday night with a 90-minute episode, the spy/counterspy drama trains its sights on willowy Annie Walker (Perabo), a hard-charging linguistics whiz who also enjoys a good romp in the sack. She's first seen taking a polygraph test for potential CIA admission. Her questioner knows all about a torrid affair that ended abruptly when Mr. Right left a note reading "The truth is complicated. Forgive me."
"The sex was good?" her inquisitor wonders while viewers are treated to a few illustrative flashbacks.
"It rocked," says Annie, who's next seen eagerly jumping from a plane during a CIA training session before underlings whisk her off to the agency's Washington, D.C. headquarters.
Annie, still reeling a bit from her fast-track promotion, quickly encounters three reasonably familiar TV faces. There's perky Christopher Gorham from
Ugly Betty
and
The OC
's Peter Gallagher, who retains those croissant-sized eyebrows and that waxen Madame Tussaud visage. Some viewers might also remember Kari Matchett, who played a key MD role on ABC's much-hyped but eventually doomed
Invasion
series.
This time around, Gorham is CIA agent Auggie Anderson, who was blinded in the act of duty but is still both a playa and Annie's new-found best pal. Gallagher plays the stern Director of Clandestine Services, Arthur Campbell, while Matchett is both his suspicious wife, Joan, and the officious head of the CIA's Domestic Protection Division.
The other character of import is Annie's older married sister, Danielle Brooks (Anne Dudek), who's also intent on being a matchmaker.
Tuesday's extended pilot episode unduly dawdles at times. But it does include a very well-staged jeopardy sequence in which tenderfoot Annie is at the mercy of a long-range sniper while on assignment in a posh hotel suite. A lotta stuff is busted up, and the bullet holes convincingly rip out chunks of walls rather than merely polka-dotting them.
As with Syfy's recently premiered
Haven
series, the superiors in
Covert Affairs
may well have ulterior motives in promoting Annie so fast. But there's a not-so-clandestine product placement agenda, with a Starbucks coffee shop strategically placed in the CIA building and a verbal reference to TGIF Fridays.
Perabo, originally from Dallas, and Gorham ably acquit themselves as the series' featured buddy-buddy duo. And Matchett is adept at being icy and also thawing just a bit after her comparatively kid agents screw up.
Warming up the potential crowd for
Covert Affairs
is the Season 2 return of USA's winning
White Collar
series. They'll probably run pretty well together on summertime Tuesday nights, with Agent Annie in perfectly tailored pantsuits and
WC
's Neal Caffrey (Matt Bomer) in debonair Armani. A two-part "crossover" already seems advisable at some point. In fact it would probably be a breeze.
GRADE:
B-minus