CW's Life Unexpected is another one of life's little disappointments
01/18/10 01:18 PM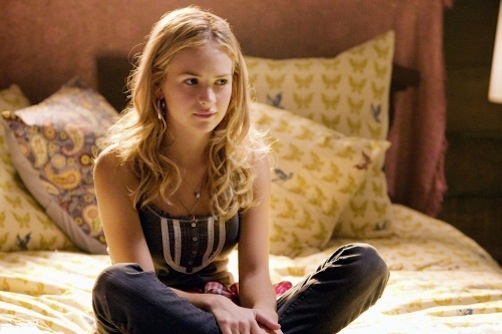 Britt Robertson stars as wayward Lux in CW's Life Unexpected.
Premiering:
Monday, Jan. 18th at 8 p.m. (central) on The CW
Starring:
Britt Robertson, Shiri Appleby, Krostoffer Polaha, Kerr Smith, Autin Basis, Reggie Austin
Produced by:
Liz Tigelaar, Janet Leahy
By ED BARK
Foster kid Lux has led an abusive, hard knocks life, although you'd hardly know it from the cool wardrobe she sports.
A cute blonde street urchin from the pages of an Urban Outfitter catalogue, she arrives at the doorstep of her perplexed bar-owning dad, who thinks she's selling cookies.
"I'm not a Girl Scout," Lux assures him. "I'm kind of comprised of half your gene pool. I'm your daughter."
Dad's wearing a "MILF: Does the body good" t-shirt to underscore his basic irresponsibility. In fact, everything about The CW's new
Life Unexpected
seems a little too precious, contrived and/or sappy to seem even remotely real. You'll find more grit in a McDonald's milkshake.
Lux, played by Britt Robertson, is nearing 16 and seeking emancipation from foster care so that she can live with her similarly situated buds in a Portland, Oregon pad. Her biological parents are Nate "Baze" Bazile (Kristoffer Polaha) and Cate Cassidy (Shiri Appleby), a well-known morning radio deejay who has an intimate relationship with her on-air partner, Ryan Thomas (Kerr Smith).
Nate and Cate conceived Lux in his mom's mini-van while the Spin Doctors provided mood music on a high school prom night. What Lux wants from the both of them is signed permanent release forms that will allow her to live on her own and out of the reach of all those "incompetent grownups."
Complications and guilt ensue, of course. Nate bonds with Lux over a youtube viewing session while Cate renounces her latter day determination to keep pushing people away. Sometimes the dialogue groans louder than a rusty gate in a cheap horror movie. This is particularly true in next Monday's Episode 2, when Cate tells Nate, "The only thing between us is the lingering smell of your Axe body spray."
The music grates as well, interceding insistently, constantly and usually comically. When Lux gets miffed and feels rejected, a moony guy with a milquetoast voice sings, "One foot in the grave, one foot in the shower." I guess we're supposed to reflect.
Life Unexpected
will be paired on Monday nights with
One Tree Hill
, which has shown remarkable staying power in the face of sapling-sized ratings.
The newcomer tries hard to pluck heartstrings and make us connect with its core group of reliably white good-lookers. But its second episode is harder to bear than the first, which at best is only marginally watchable.
Whatever your age, it's way too hard to swallow the premise that the irresistibly cute and smart Lux went unadopted because she had a hole in her heart that required a series of surgeries until the age of three.
By that time she supposedly was too old for prospective adoptive parents.
Life Unexpected
overall is just too dumb to take into your homes.
GRADE:
C-minus