Chuck tries 3D as last resort; House comfortably at home on Fox for Episode 100
02/02/09 12:18 PM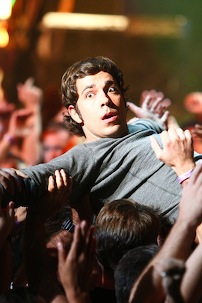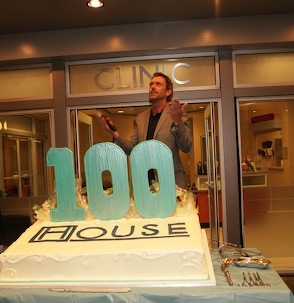 NBC's Chuck gets passed around; Fox's House celebrates 100th.
Fox's
House
hits the not so easily attainable 100th episode mark Monday night. And there are plenty more where that came from.
NBC's
Chuck
, highly unlikely to make it even half that far, resorts to a 3D stunt Monday in hopes of upping its anemic ratings. Going against
Chuck
is the fact that it now has to go against
House
, which recently relocated from its usual Tuesday perch. Show times are 7 p.m. (central), where the competitive field also includes two increasingly potent CBS comedies --
The Big Bang Theory/How I Met Your Mother
-- and ABC's 13th edition of
The Bachelor
.
I've taken NBC's official intel 3D glasses for a spin in watching a review copy of tonight's
Chuck
on both a widescreen TV and my office computer. In both cases, the overall effect is a mild headache.
"Chuck Versus The Third Dimension" is very short on poke-through imagery, with a spinning knife providing the biggest sensory sensation. There's also an opening scene featuring lush superspy Sarah Walker (Yvonne Strahovski) in a short black nightie. She can be seen crawling toward dweeby Chuck Bartowski (Zachary Levi) in his bedroom. But the 3D glasses fail to bring her into America's living rooms. Talk about performance issues.
Chuck
otherwise is cute and amusing in spots, but also increasingly dopey. Its basic premise -- nebbish as reluctant espionage agent -- already seems threadbare. And a subplot involving three of Chuck's Buy More buddies (including guest star Jerome Bettis) ends up being super lame from start to finish.
The 3D outing also includes a guest appearance by Dominic Monaghan, who played Charlie on
Lost
until the character's presumed death intervened. Monaghan isn't required to stretch unduly as hard-partying rock star Tyler Martin.
Lost
cut him from basically the same cloth.
Over on Fox, sourball Dr. Gregory House (Hugh Laurie) is being bedeviled by hospital administrator Lisa Cuddy (Lisa Edelstein) after he's compromised her decision to spend more time with her newly adopted child. At one point House is stripped of his famed wooden cane, requiring him to briefly get around with help from a mop in a rolling bucket.
"I don't remember demoting you," Cuddy cracks upon first seeing him. That's the kind of writing that makes
House
a critically praised hit in the midst of all its critically ill patients.
Tonight's 100th, subtitled "The Greater Good," spotlights a fallen-away doctor who collapses at a cooking class from a spontaneous hemothorax. Her eventual diagnosis won't be spilled here, but as usual it takes most of the episode for House to deduce it after his usual verbal abusing of anyone and everyone.
According to companion Fox press materials, the series' first diagnosis was neurocysticercosis on the Nov. 16, 2004 premiere episode. Whazzat? It's a "parasite infestation of the nervous system." Hey, I'm not a doctor. I don't even play one on TV.
No. 100 otherwise delves deeper into the now non-platonic relationship between neurologist Eric Foreman (Omar Epps) and internist Remy "Thirteen" Hadley (Olivia Wilde), who has life-threatening Huntington's Disease. Let's just say that serious complications arise on both fronts.
House
, which had initially shaky ratings, was kept alive in its first season by a very healthy mid-season injection of
American Idol
as its lead-in. In its fifth season it's perfectly capable of fending for itself as Fox's Monday night lead-off hitter.
Chuck
on the other hand is stuck as that night's table-setter on downtrodden NBC, which also will be relaunching
Heroes
and
Medium
on post-Super Bowl Monday. A long-term future for
Chuck
can be envisioned only through rose-colored glasses. Watching it in cardboard 3D spectacles doesn't improve the picture at all.