TV THEME SONG-ville -- Episode 11
09/02/10 08:13 AM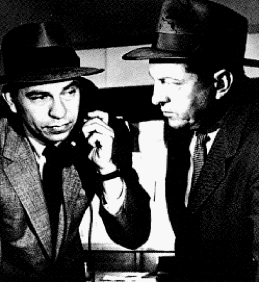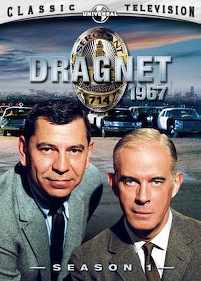 Jack Webb with first partner Frank Smith (Ben Alexander) and No. 2 sidekick Bill Gannon (Harry Morgan). The original B&W version ran from 1951-59 on NBC. Dragnet returned in color from 1967-70.
By ED BARK
Students of minimalist TV theme songs need not start with
Law & Order
.
Dragnet
made the mold back in 1952 with its stark and enduring "Dum-de-dum-dum" open. The composer, a guy named
Walter Schumann
, also wrote the foreboding score for the original feature film version of
The Night of the Hunter
.
Sgt. Joe Friday, played by Jack Webb, underscored
Dragnet
's taut mood music with his terse opening narration: "This is the city. Los Angeles, California. I work here. I'm a cop."
The below clip, our penultimate pre-fall season trip to TV THEME SONG-ville, is from the original black-and-white
Dragnet
. We'll call it a wrap Friday with a look at the original open of a cop series that CBS is reviving this season.