NBC's LOLA hopes to return from the near-dead by killing one of its own
04/11/11 10:22 AM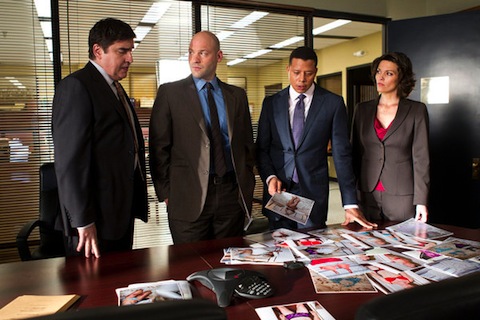 Who's missing from this picture? Skeet Ulrich. NBC photo
By ED BARK
Whatever
LOLA
wants it gets, even if this means the first fatal shooting of a
Law & Order
regular character since charter cast member George Dzundza's detective Max Grevey went down two decades ago.
Might it merely be a stay of execution, though?
LOLA
, creator/executive producer Dick Wolf's preferred shorthand for
Law & Order: L.A.
, returns Monday night after a lengthy absence and a re-tooling that deals out Skeet Ulrich's detective Rex Winters. As on-air promotions already have trumpeted, he goes down in a hail of bullets Monday night on an 8 p.m. (central) episode subtitled "Zuma Canyon."
The immediately following
LOLA
hour, "Silver Lake," then pairs holdover detective Tomas "T.J." Jaruszalski (Corey Stoll) with new partner Ricardo Morales (Alfred Molina). Morales had been a deputy district attorney, with Molina playing him in every other episode. His souring on office politics and return to the street beat make Molina a full-time participant while also freeing up Terrence Howard (deputy D.A. Jonah "Joe" Dekker) to appear in every episode.
Rachel Ticotin remains as squad leader Arleen Gonzales, but Howard's character has a new courtroom partner, Connie Rubirosa (played by former
Law & Order
regular Alana de la Garza). Besides Ulrich, actresses Regina Hall and Megan Boone likewise have been removed from the new
LOLA
equation. They both played deputy D.A.s.
Got all of that? And does it make
LOLA
a better show? Molina's ramped-up presence indeed is a plus, but it may be too late in the game to matter on a network that's currently in its worst rating ditch ever. NBC even has been trailing Univision lately in the national Nielsens measuring viewership among advertiser-coveted 18-to-49-year-olds. And replacing the 41-year-old Ulrich with the 57-year-old Molina isn't likely to make the Peacock or
LOLA
skew any younger.
LOLA
's regular Monday 9 p.m. slot also will pit it against two successful crime dramas on rival networks, CBS'
Hawaii Five-0
and ABC's
Castle
. So it's going to be a steep uphill climb that will get even steeper next week when NBC's little-watched
The Event
returns as
LOLA's
's lead-in attraction.
Although set in Los Angeles, the reconstituted
LOLA
is hardly beaches 'n' cream. In the "Zuma Canyon" episode, nine Latinos are mowed down by automatic weapons fire during a backyard party. A conscience-less head of a Mexican drug cartel has given the order, with detectives Winters and Jaruszalski assigned to the case. Winters quickly crosses swords with the episode's sinister smiling python, a drug lord named Cesar Vargas. It doesn't take long for retribution.
Molina's performance is powerful throughout, whether he's in full rage as an avenging angel or reaching out to an 11-year-old boy who becomes indispensable to the prosecution as its star witness. But events take a grim turn, prompting Molina's Morales to quit the D.A.'s office in disgust before quickly rebooting in the "Silver Lake" episode as the co-investigator of a double homicide whose victims are a mother and her young son.
"It's like riding a bike. Except I don't remember all this paperwork," Morales says of his return to the force.
These are strong, straight-ahead, uncompromising episodes in times when murders most foul already are in abundant supply on the Big Four broadcast networks.
LOLA
for its part shows signs of getting that old
Law & Order
moxie back. But the flesh is weak when you're on a network that's pretty much been playing dead ever since the NFL's
Sunday Night Football
stopped dragging players off the field.
GRADE:
B
PROGRAM NOTE:
Fox's
House
marks its 150th episode Monday night (
7 p.m. central
) by returning Dr. Remy "Thirteen" Hadley (Olivia Wilde) to the fold after a mysterious six-month prison term.
The not-so-good doctor (Hugh Laurie) is there to meet her upon release. Whereupon they take a road trip to an annual "spud gun" competition. Why was Thirteen incarcerated? The episode provides the answer while also weaving in a back-at-the-hospital subplot involving hoarding and a puzzling respiratory illness.
Laurie and Wilde are good together, but the episode ends up being only so-so. Congratulations, though. A drama series making it to the 150-episode milestone is no small accomplishment.