Rooney leaving 60 Minutes after Sunday's farewell commentary
09/27/11 04:10 PM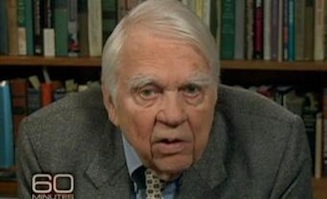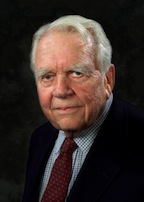 By ED BARK
Didja ever think you'd see the day when Andy Rooney would step down from
60 Minutes
?
Well, it's come.
CBS announced Tuesday that the Sunday, Oct. 2nd edition of the program will mark the 92-year-old icon's last regular appearance as the closing commentator. Rooney himself will say as much on the air, the network said. He has been on
60 Minutes
since 1978, and this will be his 1,097th essay.
His sign-off from weekly duties will be preceded by Rooney looking back on his career in an interview with
60 Minutes
colleague Morley Safer.
Rooney was not quoted in the CBS announcement. But CBS News chairman and
60 Minutes
executive producer Jeff Fager praised his "immeasurable" contributions to the program. "It's harder for him to do it every week, but he will always have the ability to speak his mind on
60 Minutes
when the urge hits him."
Realistically, Rooney is very unlikely to return after Sunday's telecast. Whether he was pushed or is leaving entirely of his own accord, it's time for him to go. No one is entitled to these positions until death intercedes -- not even Rooney. Oft-parodied, sometimes controversial and
suspended for three months in 1990
for his controversial off-camera comments about blacks and gays, Rooney arguably is irreplaceable but not immovable.
His first commentary for
60 Minutes
, in July 1978, was about automobile fatalities on Independence Day, according to the CBS publicity release.
"There's nobody like Andy and there never will be," Fager said. "He'll hate hearing this, but he's an American original."
Rooney also has written a string of bestselling books and is a World II veteran who was drafted into the Army in 1941. In the many years since, he certainly has had his say. And become a household name while doing so.