King of Queens has last laughs
05/14/07 03:59 PM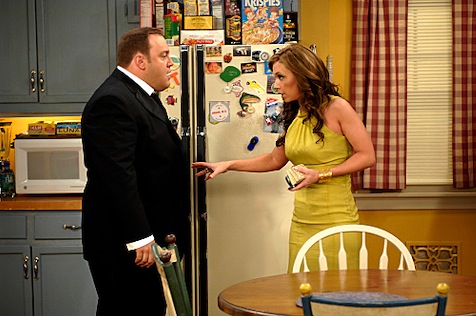 More heat in the kitchen: Doug and Carrie Heffernan keep bickering.
By ED BARK
These are very lean times for conventional laugh track-driven sitcoms, even if Kevin James still carries plenty of weight.
The beefy star of CBS'
The King of Queens
bellows a last time Monday (May 14) on a one-hour series finale of the show that made a name for him.
Ratings lately have been robust for the nine-season veteran, whose penultimate episode drew 13.4 million viewers last Monday to again rank in prime-time's top 20. The finale, subtitled "China Syndrome Part 1 and 2" (8 to 9 p.m. central), likely will climb into this week's elite 10.
That's not bad for a show that got both benched and bounced around in recent seasons. Its amusing, well-crafted goodbye comes on the same day that NBC announced a fall schedule that for now is without any new comedies. The Peacock's remaining foursome are all clustered on Thursday nights. It's the same story with CBS, except that all of its comedies fall on Mondays.
King of Queens
, an offshoot of
The Honeymooners
, premiered in September 1998. Doug Heffernan (James), the oft-infantile man of the house, drove an IPS delivery van instead of a bus. Wife Carrie (Leah Remini) worked for a Manhattan law firm.
Like the Kramdens of Brooklyn they were childless and remained that way. But the finale holds out hope for the adoption of a Chinese baby girl and perhaps an extra surprise or two. TV critics are are honor-bound not to tell, which means that not much more can be said.
Let's just add that Jerry Stiller, as Carrie's cantankerous father, Arthur, again steals nearly every scene he's in. And that Doug is drunk for a good part of the episode after thinking that Carrie betrayed his trust.
Not that you're going to be deprived of a happy ending.
King of Queens
says goodnight after hitting some nice little high notes, even if Arthur still can't seem to get his personal life in order.
Just nine seasons ago, it arrived as a typically mainstream sitcom amid plenty of the same ilk. It ends as almost a throwback, with only a few of its kind still in business. This time it may not be "cyclical." Prime-time sitcoms filmed in front of studio audiences are leaving dinosaur tracks in their wake.
King of Queens
, which endured as one of the better ones, typically gets its last kicks with a collection of clips from seasons past. Now it's going to be reruns all the way. In D-FW, they're still gainfully deployed from 6 to 7 p.m. weeknights on TXA21.