New fall season: NBC's Whitney gets off to a smart 'n' snappy start
09/21/11 08:13 AM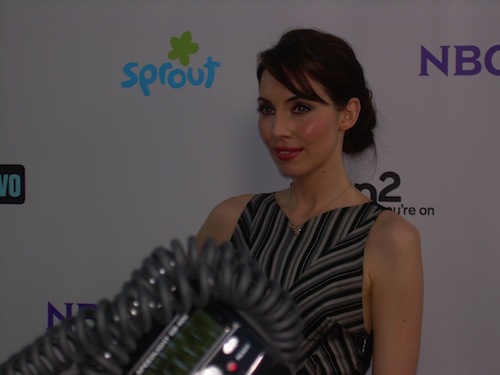 Whitney Cummings is in front of cameras for her 2nd fall show.
Photo: Ed Bark
Premiering:
Thursday, Sept. 22nd at 8:30 p.m. (central) on NBC
Starring:
Whitney Cummings, Chris D'Elia, Rhea Seehorn, Zoe Lister-Jones, Maulik Pancholy, Dan O'Brien
Produced by:
Whitney Cummings, Scott Stuber, Quan Phung, Betsy Thomas, Barry Katz, Andy Ackerman
By ED BARK
NBC has branded Whitney Cummings this fall's "It" girl. It doesn't necessarily mean she's the best thing about the new sitcom
Whitney
, although she's still quite a bit better than good.
The revelation here is Chris D'Elia, who plays Whitney's live-in boyfriend, Alex. He's the low-key, but quick-with-a-quip anchor of a series in which the title character and her two likewise high-strung girlfriends are far less likely to tone it down.
D'Elia, who like Cummings comes from the standup comedy world, is a solid delivery man when it comes to making the most of his somewhat secondary role. At a wedding reception, for instance, Whitney is caught in the act of prematurely glomming onto the cupcakes after earlier being talked out of wearing white.
"Wow, you're on fire tonight," D'Elia's Alex notes. "What are you closing with -- blackface?"
The two of them have been together for three years, with no inclination to become Mr. and Mrs. Her parents have both been divorced three times, so it's Whitney's opinion that "getting married is so dumb." Alex is more than OK with that, although their lax sex life could use a little boost. Or at least Whitney feels that way, prompting her to wear a naughty nurse's outfit to surprise Alex when he returns home. First, though, he'll have to fill out the patient forms. It's a funny bit, and you're probably assuming it doesn't end well. It doesn't.
Cummings, whose career began catching fire on the E! network's
Chelsea Lately
, is very busy this fall. She's also the co-creator and executive producer of CBS'
2 Broke Girls
, which rocked the ratings with a Monday premiere that capitalized on the coattails of the preceding debut of Ashton Kutcher as Charlie Sheen's replacement on
Two and a Half Men
.
Whitney
, the only NBC comedy with a studio audience and attendant laugh track, is slotted after
The Office
on Thursday nights. So it's also following a show in transition, with James Spader stepping in to fill the void left by Steve Carell.
Cummings has nowhere near the acting experience of any of the aforementioned stars. But she acquits herself well in
Whitney
's opener, with D'Elia landing some welcome softer punchlines. How nice it is to have a guy who's neither a shouter nor a whiner.
Sitcoms also can rise and fall on the strength of their supporting players. Whitney's so far/so good gal pals include a sardonic divorcee named Roxie (Rhea Seehorn) and the much sunnier Lily (Zoe Lister-Jones), who's proud of her frequent sex with boyfriend Neal (Maulik Pancholy). A rather tiresome would-be playuh named Mark (Dan O'Brien) rounds out the ensemble. He's also a cop.
The premiere episode for the most part is snappily written and bracingly vibrant. And D'Elia can be relied on to take it down a notch when needed. It all makes for a promising start on a network whose best comedies invariably wind up on Thursday nights.
Whitney
is already there, and looks as though it just might belong.
GRADE:
B+