Important Things with Demetri Martin needs more pop but shows some promise
02/10/09 01:04 PM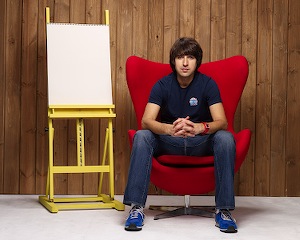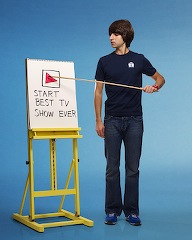 Demetri Martin inaction -- and in action. Comedy Central photos
Premiering:
Wednesday, Feb. 11th at 9:30 p.m. (central) on Comedy Central
Starring:
Demetri Martin
Produced by:
Demetri Martin, Jon Stewart
By ED BARK
It'd be nice if Demetri Martin were a little/lot funnier. Because he really seems to have the goods -- just not an armload of 'em yet.
Wednesday's premiere of Comedy Central's
Important Things with Demetri Martin
(
9:30 p.m. central
) brings forth a mop-headed, nimble-brained 35-year-old who looks quite a bit younger than he is.
But in fact he's a combat vet of both
Late Night with Conan O'Brien
, for which he wrote, and
The Daily Show
, on which he performed in periodic "Trendspotting with Demetri Martin" segments.
Daily Show
host Jon Stewart further champions Martin's career with this half-hour-hour weekly series from his Busboy Productions, Inc. Tonight's launch is built around the word "Timing." And so it begins on film with Martin in an orange jumpsuit with a water balloon in hand. His timing is impeccable as he splatters a bypassing bicyclist.
What follows is strictly hit-and-miss. Roughly one-third of the show is done before a studio audience, with filmed sketches otherwise in play. Martin's onstage props include a guitar he plays and charts he's drawn. Maybe you'll at least grin -- as I did -- when he shows a picture of a conventional four-holed shirt button -- and then that same picture as a "disappointing pepperoni pizza."
A sketch featuring Martin as an inept actor also has its moments. But he's later less effective as both a rookie cop and then a time-traveling janitor.
Next Wednesday's show, which trades on the word "Power," has appreciably better filmed sketches built around a battle for a parking space and a super hero named the Revenger" who later learns that his father died of Lyme Disease rather than at the hands of violent crooks.
Martin is a low-key comic onstage, dispensing his observational riffs in the manner of Steven Wright in his now long-ago prime. But he's much cuter than Wright and also far less of a sad sack. There's nothing off-putting or cringe-worthy about Martin. You want his jokes to work, and it's more of a letdown than a bomb-drop when they don't.
One of tonight's filmed sketches finds Martin playing a ridiculously garbed character who's "Way too Early for a Rave."
A rave review of
Important Things
likewise would be premature. But I hope he's working his way up to that.
GRADE:
B-minus