Young's "Long May You Run" had familiar NBC ring to it; Marriage Ref launch then waylays Olympics' closing ceremonies
03/01/10 12:03 AM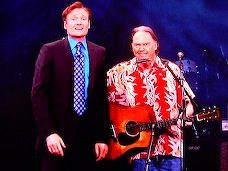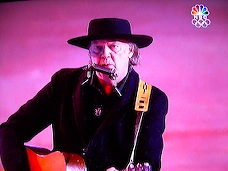 Second verse, same as the first. Neil Young serenaded Conan O'Brien on his last Tonight Show (Jan. 22nd) with "Long May You Run." He returned to NBC Sunday night to play the same tune during the Olympics' closing ceremonies in Vancouver. Photos: Ed Bark
By ED BARK
Bob Costas, master of trivia nuggets, somehow missed this one. Perhaps it might be because his boss, NBC Sports president Dick Ebersol, would have killed him had he recalled the last time Neil Young played on the network.
Costas, joined by Al Michaels, hosted the Olympics' closing ceremonies from Vancouver Sunday night. Just before the torch was extinguished, Canadian native Neil Young materialized to sing "Long May You Run" to the appreciative masses.
Gee, it seems like only yesterday -- late last month to be more exact -- that Young serenaded Conan O'Brien with the same ballad on his last NBC
Tonight Show
. Now, on the eve of Jay Leno re-taking
Tonight
, Young was playing show-stopper again.
Costas no doubt knew of the Young double-shot. But maybe it's better to zip your lip when the guy who masterminded NBC's Olympics coverage has been bluntly on the record about what he termed O'Brien's
"astounding failure"
as
Tonight Show
host.
"We bet on the wrong guy,," Ebersol also told
The New York Times
in a mid-January interview. He's the only high-level NBC executive to publicly criticize O'Brien's performance during his brief seven-month reign as
Tonight
host.
"He was just stubborn about not being willing to broaden the appeal of his show," Ebersol contended.
Young is not among the high-voltage guests lined up for Leno's
Tonight
return this week. Then again, he apparently only does NBC closings these days.
NBC's The Marriage Ref had an animated intro. Sunday night.
Determined to give Jerry Seinfeld's
The Marriage Ref
a showcase sneak preview, NBC plopped it in the middle of its live coverage of the Olympics' closing ceremonies Sunday night.
The unscripted comedy panel show, which otherwise will air on Thursdays at 9 p.m. (central), was billed as premiering
after
the Winter Games officially ended. But a half-hour edition of
Marriage Ref
, which NBC did not make available for review, instead served as a bridge between the Peacock's prime-time and late night coverage of the Vancouver curtain-closer.
That meant a rather jarring transition from the unfinished pageantry at hand to a celebrity debate over whether a husband was justified in stuffing his beloved dead dog, Fonzie. After much merriment -- or at least that was the intention -- a panel of Seinfeld, Alec Baldwin and Kelly Ripa sided with the aggrieved wife, who never liked the dog anyway. Host and "ref" Tom Papa then ratified their decision.
A second debate concerned a husband's intent to install a stripper pole in the bedroom so that his wife could perform for him. Seinfeld liked the idea, but Baldwin, Ripa and Papa didn't.
The show also deployed
Today
"national correspondent" and news reader Natalie Morales for its "Just the Facts" segments. Morales told Papa that 1,000 people have stuffed their dogs and that pole dancing "can burn up to 250 calories an hour." This is where a journalism degree from Rutgers University can take you. And yes, Morales has one. Can they take it back?
An embarrassed looking Marv Albert showed up near show's end with his "Shot of the Day" proclamation, in which the dog stuffer's wife was lauded for getting in the best dig.
Sunday's launch was just 30 minutes, but future
Marriage Refs
will be called on to fill an entire hour as lead-ins to late night Thursday newscasts on NBC stations. The premise already seems wobbly, although a future celebrity panel of Madonna, Ricky Gervais and Larry David looked amusingly lippy based on the few seconds of clips shown.
The easiest call of all, though, is whether NBC should have interrupted Sunday's live Olympics closing ceremonies to throw this little trifle at you. Of course they shouldn't have. Remember, though, these are the boneheads who put Leno in prime-time and now are trying to undo the damage done on a number of fronts. Stupidity of that magnitude just can't be underestimated.