Jumping through some Revolutionary hoops in History's Sons of Liberty
01/22/15 01:49 PM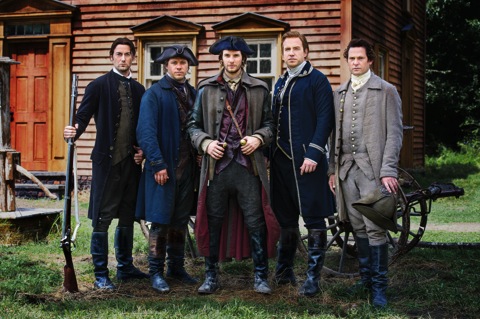 Sam Adams (center) leads the charge in Sons of Liberty. History photo
Premiering:
Sunday, Jan. 25th at 8 p.m. (central) and continuing at the same hour on Monday and Tuesday
Starring:
Ben Barnes, Rafe Spall, Henry Thomas, Michael Raymond-James, Ryan Eggold, Marton Csokas, Dean Norris, Jason O'Mara, Emily Berrington, Kevin Ryan
Produced by:
Stephen David, Matthew Gross, Russ McCarroll, Elaine Frontain Bryant
By ED BARK
@unclebarkycom on Twitter
Sam Adams, future namesake of a solid beer, is the designated daring young action figure in History channel's
Sons of Liberty
, a "dramatic interpretation" of events leading to the American Revolution.
The three-part, six-hour yarn, premiering on Sunday, Jan. 25th, takes considerable liberties with this run-up to the war for independence against the occupying British. Strapping Sam Adams (Ben Barnes) is a handsome, headstrong rebel and escape artist who kicks a pair of Redcoats down a flight of stairs early in Episode 1 before declaring in Episode 2, "This will not happen to anyone in Boston ever again. We need more guns."
And he shall have them -- but without getting the girl. That particular pleasure goes to the gallant Dr. Joseph Warren (Ryan Eggold), who beds the very unhappy young spouse of brutish British General Thomas Gage (Marton Csokas). He'll stop at nothing to quash the impending colonial rebellion. But his underfoot wife Margaret (Emily Berrington) -- "I'm not a terribly cautious woman" -- will do her level best to aid the insurrection while getting a little colonial style sex on the side.
Gage makes for a good central villain. And there are other decent performances that help to offset some of the overall nonsense. Rafe Spall is interesting throughout as John Hancock, a very wealthy Bostonian and effete appeaser until his palatial house is confiscated. "Whatever you need, I'm in," he tells a still skeptical Sam, whose reproving older cousin, John Adams (Henry Thomas), never really registers as a vital character. It's almost as if the makers of
Sons of Liberty
are saying, "Hey, he already had his own HBO miniseries."
It's doubtful that Hancock's "I'm in" was in use back in ye olde 1770s. And even more unlikely that Ben Franklin (Dean Norris) would say in Episode 3 that starting a new country is "an absolutely bat shit crazy idea" that he nonetheless very much supports. Bat shit? Back then? Big Ben also gets to say later on, "Ya see, here's the thing." No one says, "Peace out," though.
Norris (
Breaking Bad, Under the Dome
) is fine as Franklin in the handful of scenes he's in. So is Jason O'Meara as a late-arriving George Washington. But
Sons of Liberty
is mostly in the hands of its young bucks, who also include Paul Revere (Michael Raymond-James) as a thick-of-the battle leader who does much more than ride through the night proclaiming "The British are coming." In this drama, "Redcoats" is substituted.
In one of the more fanciful scenes, Sam saves Revere from being shot by a British soldier near the start of Episode 3. Hancock then quickly saves Sam from the same fate, allowing the two men to finally bond and accept one another. Meanwhile back in Boston, the nefarious Gen. Gage leans over his wife and hisses "I know it was you" in the manner of Michael Corleone upbraiding his brother, Fredo, in
The Godfather II
.
Episode 3 has some solidly staged battle scenes to accompany the continued deliberations of the 2nd Continental Congress in Pennsylvania. There's obviously no suspense over whether they'll all eventually sign the Declaration of Independence. But there's also little oomph to their debate, with the eventual author of the document, Thomas Jefferson, getting far less screen time than the opening credits for
Sons of Liberty
.
The story spans nine years, beginning in the turbulent streets of Boston, circa 1765. If it does well in the ratings, there's certainly room for a sequel. Episode 3 ends with Washington finally in command as the reinforced British army attacks New York.
Sons of Liberty
falls well short of the aforementioned
John Adams
, which won a wealth of Emmy awards. But it has an overall stronger pulse than AMC's oft-tepid
Turn
, which will return for a second season this spring with the expanded title of
Turn: Washington's Spies
.
Be assured, though, that
Sons of Liberty
is no
Vikings
, whose bloodthirsty characters could devour Sam Adams and his boys for a late night snack. History channel's most rousing success story returns on Feb. 19th with a 10-episode Season 3.
Sons of Liberty
can't match
Vikings'
intensity, ferocity and full-immersion sense of place. Instead it's a serviceable battle cry in some instances but rather laughable in others.
GRADE:
C+
Email comments or questions to:
unclebarky@verizon.net