Idol: No thanks for the Memory, but Rockwall's Castro climbs another rung
04/23/08 09:28 PM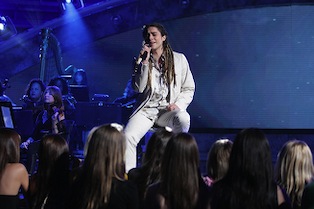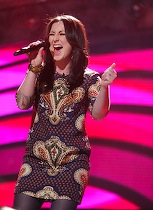 In and out: Rockwall's Jason Castro outlasts tatooed Carly Smithson.
By ED BARK
He'd probably like to forget his Tuesday night performance of Andrew Lloyd Webber's "Memory." Still, Rockwall's 21-year-old Jason Castro beat back another volley of unfavorable judges' reviews to make
American Idol
's Final Five Wednesday night.
Carly Smithson, who had washed out with a previous professional recording contract, graciously left
Idol
's national stage after being paired with Bottom Two frequenter Syesha Mercado. Theories: those weekly reaction shots of Smithson's husband, whose face is almost completely tattooed, didn't help her cause. Nor does being married. A spouse has yet to win
Idol
through six previous editions. Now only one remains -- imperiled Brooke White.
Smithson's performance of another Webber standard, "Jesus Christ, Superstar," won raves from the judges, even Simon Cowell. This prompted her to brandish a T-shirt labeled "Simon Loves Me (this week)."
"I apologize for giving you a compliment last night -- kiss of death," Cowell said Wednesday.
Castro got the other end of the stick after again performing while seated. Judge Randy Jackson called it a "trainwreck" because the song was a bad fit for him.
"It came over as a young guy being forced by your mum and dad to sing a song at a wedding that you didn't want to sing," said Cowell.
Upshot: chances are looking better and better for
Idol
's first all-male Final Three. That would mean evictions in the next two weeks of the oft-endangered Mercado and the increasingly shaky White.
But it's an extreme longshot for Castro to survive beyond that opposite the show's two King Davids -- Archuleta and Cook. Next Tuesday, the survivors will tackle hit songs from "mentor" Neil Diamond.