R.I.P. Leslie Nielsen: Feb. 11, 1926 to Nov. 28, 2010
11/29/10 05:04 PM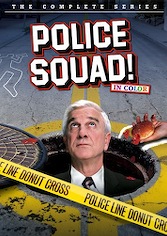 Leslie Nielsen as a serious-minded young actor in Forbidden Planet and as Det. Frank Drebin in ABC's short-lived Police Squad!, where he happily and very profitably spoofed his previous life's work.
By ED BARK
Leslie Nielsen had the good fortune -- and undeniable talent -- to star in one of TV grandest, glorious flops.
ABC's
Police Squad!
, which lacked a laugh track in times when it was standard operating equipment, lasted just six episodes before the network killed it off. More than 28 years after its March 4, 1982 premiere, it remains an ahead-of-its time feast of sight gags, word plays and brilliant braggadocio in the person of Nielsen's Det. Frank Drebin.
Police Squad!
later evolved into the hit
Naked Gun
movies, with Nielsen reprising Drebin and prospering in his later years as an actor willing to spoof anything and anybody. He died Sunday at age 84.
Nielsen took the
Police Squad!
role shortly after
Airplane!
revitalized his career. The Zucker brothers (David and Jerry) and partner Jim Abrahams were the dementos behind both sendups. And Nielsen's portrayal of Dr. "Don't call me Shirley" Rumack made it virtually impossible for him to ever again effectively play a straight role.
Nielsen's Detective Drebin was, however, almost completely straight-faced, swaggering through cases with his loyal partner, Capt. Ed Hocken (Alan North). They solved crimes while remaining clueless, with Drebin occasionally going undercover. In one episode he played a fight manager who became angry at the sight of his pugilist playing a saxophone just minutes before a big bout.
"I thought I told you," he bellowed. "No sax before a fight!"
ABC's entertainment president at the time, Tony Thomopoulos, told TV critics that
Police Squad!'s
lack of a laugh track likely confused viewers, many of whom in effect had to be told when to respond. He said this with a straight face, and perhaps had a point in trying to explain why
Police Squad!
never rang the ratings bell. But a canned laff machine would have been hard-pressed to keep up with this series. That is, unless it was deployed non-stop.
We fondly remember Leslie Nielsen with the below clips from
Forbidden Planet
and
Police Squad!
.