And cable's 2011 ratings winners are . . .
02/01/12 01:26 PM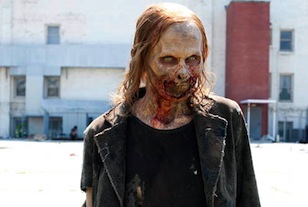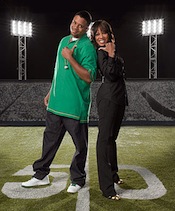 Reigning champs: AMC's The Walking Dead and BET's The Game.
By ED BARK
Basic and premium cable networks continue to hum along creatively while also increasing in popularity. But what scripted series are tops in their fields ratings-wise in total viewers, and women/men in the advertiser-coveted 18-to-49-year-old demographic?
Thanks to the usual highly informative charts issued by FX at January's Television Critics Association "press tour," we're going to break it down for you in both the drama and comedy categories.
All ratings are for the 2011 calendar year and compiled from national Nielsen Media Research data. And some of these rankings are eye-openers.
DRAMA SERIES
Total Viewers
(Top 10)
1. The Walking Dead (AMC) -- 8.868 million per episode
2. Rizzoli & Isles (TNT) -- 8.440
3. The Closer (TNT) -- 8.295
4. Falling Skies (TNT) -- 6.906
5. Royal Pains (USA) -- 6.558
6. True Blood (HBO) -- 6.458
7. Suits (USA) -- 6.314
8. Burn Notice (USA) -- 6.119
9. Covert Affairs (USA) -- 6.045
10. Necessary Roughness (USA) -- 5.759
18-to-49-Year-Old Women
1. True Blood (HBO) -- 2.516 million
2. The Walking Dead (AMC) -- 2.497
3. American Horror Story (FX) -- 1.813
4. Rizzoli & Isles (TNT) -- 1.657
5. Pretty Little Liars (ABC Family) -- 1.576
6. Army Wives (Lifetime) -- 1.558
7. Sons of Anarchy (FX) -- 1.543
8. Switched At Birth (ABC Family) -- 1.538
9. The Closer (TNT) -- 1.518
10. Covert Affairs (USA) -- 1.501
18-to-49-Year-Old Men
1. The Walking Dead (AMC) -- 3.582 million
2. True Blood (HBO) -- 2.285
3. Sons of Anarchy (FX) -- 2.224
4. Falling Skies (TNT) -- 1.956
5. American Horror Story (FX) -- 1.451
6. Burn Notice (USA) -- 1.444
7. Suits (USA) -- 1.344
8. Hell On Wheels (AMC) -- 1.314
9. Boardwalk Empire (HBO) -- 1.292
10. Justified (FX) -- 1.287
COMEDY SERIESTotal Viewers
1. The Game (BET) -- 5.282 million
2. South Park (Comedy Central) -- 3.639
3. Entourage (HBO) -- 3.211
4. Hot In Cleveland (TV Land) -- 2.978
5. For Better or Worse (TBS) -- 2.893
6. Let's Stay Together (BET) -- 2.737
7. Curb Your Enthusiasm (HBO) -- 2.592
8. It's Always Sunny In Philadelphia (FX) -- 2.588
9. Beavis & Butt-head (MTV) -- 2.500
10. Awkward (MTV) -- 2.357
18-to-49-Year-Old Women
1. The Game (BET) -- 2.312 million
2. Awkward (MTV) -- 1.186
3. Let's Stay Together (BET) -- 1.164
4. For Better or Worse (TBS) -- 1.136
5. Entourage (HBO) -- 951,000
6. It's Always Sunny In Philadelphia (FX) -- 779,000
7. House of Payne (TBS) -- 759,000
8. South Park (Comedy Central) -- 756,000
9. Hot In Cleveland (TV Land) -- 687,000
10. Curb Your Enthusiasm (HBO) -- 657,000
18-to-49-Year-Old Men
1. South Park (Comedy Central) -- 1.981 million
2. Entourage (HBO) -- 1.518
3. It's Always Sunny In Philadelphia (FX) -- 1.379
4. Workaholics (Comedy Central) -- 1.173
5. Beavis & Butt-head (MTV) -- 1.138
6. The Game (BET) -- 1.121
7. The League (FX) -- 1.064
8. Futurama (Comedy Central) -- 1.018
9. Wilfred (FX) -- 981,000
10. Curb Your Enthusiasm (HBO) -- 904,000