ABC adds five freshman for the fall while readying American Idol for a midseason splash (updated)
05/16/17 11:06 AM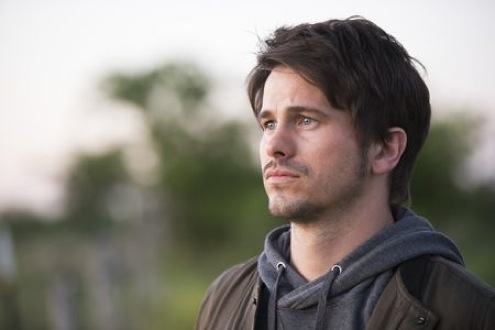 Jason Ritter gets enlightened in The Gospel of Kevin. ABC photo
By ED BARK
@unclebarkycom on Twitter
Third out of the box with its new season plans, struggling ABC has five newbies for this fall and a rebooted
American Idol
on its bench awaiting big decisions on who will host (likely Ryan Seacrest) and who will judge (who knows?).
The Disney-owned network drooped in the 2016-17 prime-time ratings, running third in total viewers and fourth among advertiser-prized 18-to-49-year-olds. ABC's publicity materials tout a second-place tie in the 18-to-49 demographic if sports programming is excluded. But the network in turn isn't subtracting its annual high-rated Oscar-cast from this alternative facts equation.
Autumn's quintet of freshmen series includes another new hour from ubiquitous Marvel --
Marvel's Inhumans
-- and Kyra Sedgwick's return to weekly TV as the star of
Ten Days in the Valley
.
ABC's cancellation corral is far more crowded. The latest reluctant inhabitants are
Last Man Standing, Dr. Ken, Notorious, The Catch, Imaginary Mary, American Crime, The Real O'Neals, Secrets and Lies, Conviction, The Match Game
and
Time After Time
.
(ABC announced later Tuesday that Scandal will be dropped after its seventh and final season in 2017-2018. And later still, network entertainment president Channing Dungy told ad buyers at ABC's "upfront" presentation that Katy Perry will be Idol's "anchor judge."

Continuing in this vein, Dungy also brought on the original cast of Roseanne late Tuesday afternoon after telling ad buyers the show will return with all of them and with all new episodes sometime in 2018. She then announced a midseason Grey's Anatomy spinoff. None of this news was included in the network's mid-morning release of its new season plans.)
Downward Dog
, announced last May as a midseason replacement series, will get a belated premiere on Wednesday, May 17th. And
Still Star-Crossed
is set for a May 29th launch. Both series could be added to ABC's list of returnees if the ratings measure up.
The fall lineup also has a trio of notable night shifts, with
Shark Tank
moving from its longtime Friday perch to Sundays,
Once Upon A Time
segueing from Sundays to Fridays and
black-ish
going from Wednesdays to Tuesdays.
Here are ABC's five new fall series:
The Good Doctor
(drama) -- A young sawbones with autism and "savant syndrome" segues from a "quiet country life" to a prestigious, big-city hospital's surgical unit. Freddie Highmore (
Bates Motel
) stars as Dr. Shaun Murphy. Daniel Dae Kim, still with CBS'
Hawaii Five-0
, does double-duty by going off-camera as one of this series' co-executive producers.
The Gospel of Kevin
(drama) -- Former
Parenthood
co-star Jason Ritter is the "cluelessly self-serving" Kevin Finn until a celestial being named Yvette appears and suggests that he save the world. Presto, Kevin's now a dedicated do-gooder.
Marvel's Inhumans
(drama) -- Not sure how many more Marvel series and movies the universe can withstand. But here's another one, this time built around the "epic adventures" of Black Bolt, King of the Inhumans. Anson Mount (
Hell on Wheels
) stars. ABC says the first two episodes will be shown globally in IMAX theaters for two weeks before the entire series downshifts to television screens "with additional content that can only be seen on ABC."
Ten Days In the Valley
(drama) -- The aforementioned Sedgwick, who previously starred in TNT's long-running
The Closer
, is front and center as "overworked television producer" Jane Sadler. She becomes overwrought as well when her young daughter goes missing. And "just like her controversial police TV show, everything is a mystery, everyone has a secret and no one can be trusted." Malcolm-Jamal Warner is also in the cast.
The Mayor
(comedy) -- Rapper Courtney Rose (newcomer Brandon Michael Hall) yearns to become a music star but is getting nowhere. So he runs for mayor of his California hometown in hopes of generating some buzz. But "in the most terrifying of outcomes," he wins.
Here is ABC's night-by-night fall schedule:
Monday
Dancing with the Stars
The Good Doctor
Tuesday
The Middle
Fresh Off the Boat
black-ish
The Mayor
The Gospel of Kevin
Wednesday
The Goldbergs
Speechless
Modern Family
American Housewife
Designated Survivor
Thursday
Grey's Anatomy
Scandal
How to Get Away with Murder
Friday
Once Upon a Time
Marvel's Inhumans
20/20
Saturday
Saturday Night Football
Sunday
America's Funniest Home Videos
To Tell the Truth
Shark Tank
Ten Days in the Valley
ABC also has announced these midseason series:
The Crossing
(drama) -- It's best to let ABC's publicity department describe this one. "Refugees from a war-town country seek asylum in a small American fishing town, only the country these people are from is America -- and the war they are fleeing hasn't happened yet." The network adds that things "will never be the same" for both the townies and the newcomers. Steve Zahn (
Treme
) heads an ensemble cast.
Deception
(drama) -- Superstar magician Cameron Black finds he no longer can pull rabbits from a hat -- onstage at least -- after his career is "ruined by scandal." So he joins the FBI as the agency's first crime solving illusionist. Newcomer Jack Cutmore-Scott stars.
For the People
(drama) -- A band of brand new lawyers works out of New York for both the defense and the prosecution in this latest outing from Shonda Rimes (
Grey's Anatomy, Scandal
). Ben Rappaport, Vondie Curtis-Hall and Anna Deavere Smith are among the principals.
Alex, Inc.
(comedy) -- Former
Scrubs
star Zach Braff is back in the game as radio journalist Alex Schuman, who's also a husband, father and "about to do something crazy" by starting his own company. Based on the podcast
StartUp
.
Splitting Up Together
(comedy) -- This one's adapted from a same-named Danish series, with Jenna Fischer and Oliver Hudson starring as a couple "whose marriage is reignited by their divorce."
Dancing with the Stars Junior
(alternative/reality) -- Celebrity kids and kids of celebrities team with professional junior ballroom dancers and compete for something. Hosts and judges to be announced later.
Email comments or questions to:
unclebarky@verizon.net