Danes in full bloom as autistic heroine of HBO's Temple Grandin
02/04/10 04:32 PM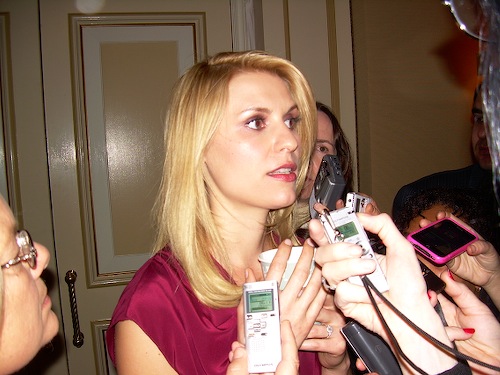 Claire Danes talks up the HBO film Temple Grandin at Television Critics Association "press tour" in Pasadena. Photo: Ed Bark
By ED BARK
This is such a good film. And Claire Danes is simply great in it.
That's the condensed review of HBO's
Temple Grandin
(
Saturday, Feb. 6th, 7 p.m. central
), which on paper has a less than scintillating premise.
The name in the title is a real-life autistic woman whose singular achievements in animal husbandry have made it easier for cattle to proceed to their eventual slaughter. Her clarion call: "Nature is cruel, but we don't have to be. We owe them some respect."
Danes, still best known for her starring role in ABC's one-season wonder,
My So-Called Life
, has a transformative role in
Temple Grandin
. Her hair short and curled and her speech slightly impaired, she not so much plays but inhabits her character. An Emmy nomination is a certainty, and it's hard to imagine anyone else measuring up. Few TV performances in recent memory have risen to this level.
The film begins in 1966, with Temple spending the summer at her Aunt Ann's (Catherine O'Hara) cattle ranch in Arizona before being asked to make an abrupt transition to Franklin Pierce College out East.
Temple's mother, Eustacia (Julia Ormond), has doted on her daughter since spurning a doctor's recommendation that she be institutionalized as a mute four-year-old diagnosed as an "infantile schizophrenic." College and further socialization for Temple are musts in Eustacia's view. But Temple prefers the company of animals, whose moods and routines she comes to understand.
While on the ranch, she builds a calming "squeeze machine" modeled after a close-quartered cattle restraint. It substitutes for the human hugs that Temple can't tolerate. The invention and its inventor become inseparable, but not without a fight for the right to keep it in her dorm room.
The movie also flashes back to Temple's high school years at a New Hampshire boarding school, where she's befriended and encouraged by a science teacher named Dr. Carlock (David Strathairn). He realizes that Temple thinks in pictures with a mind that retains visual records of everything she's encountered.
"Trust me, we know how different she is," Carlock tells Eustacia.
"Different, but not less," she responds.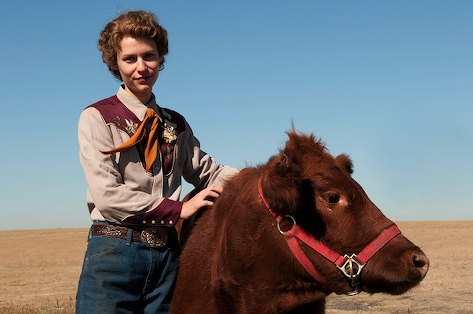 No hat, all cattle. Danes as Grandin in comfort zone. HBO photo
Temple Grandin
is touching without ever being cloying. Its plucky heroine loves both
The Man From U.N.C.L.E.
and the challenge of envisioning master plans for the humane treatment of cattle.
Her principal battles are with taunting students, automatic sliding doors and a brusque, condescending cattle boss named Don Michaels (Richard Dillard). Initially bemused, he refuses to approve her proposed master's thesis on mooing as an indicator of cattle behavior.
As noted, none of this seems like the stuff of riveting drama. It is, though. Still only 30, Danes shows she's now ready and able to take command of any acting challenge put in her path.
"I'm Temple Grandin," she proclaims at film's end.
That she is.
GRADE:
A