NEW SEASON: ABC's Better With You manages to dodge a snarky retort
09/22/10 03:01 PM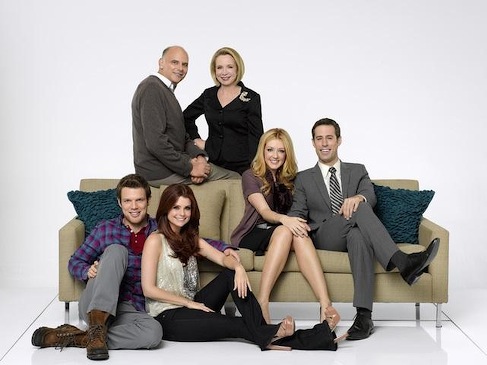 Better With You's hopes you'll be all smiles, too. ABC photo
Premiering:
Wednesday, Sept. 22nd at 7:30 p.m. (central) on ABC
Starring:
Jennifer Finnegan, JoAnna Garcia, Josh Cooke, Jake Lacy, Debra Jo Rupp, Kurt Fuller
Produced by:
Shana Goldberg-Meehan
By ED BARK
This one gets the fall season's dreaded not-too-bad tag.
Affixed with a laugh track, ABC's
Better With You
isn't as good as the three returning sitcoms surrounding it --
The Middle, Modern Family
and
Cougar Town
.
Still, it's an improvement over last fall's
Hank
, the Kelsey Grammer groaner that likewise had its yucks piped in while the three aforementioned comedies went
au naturel
.
Initially titled
Better Together
, this is the saga of three couples in varying stages of commitment.
Maddie and Ben (Jennifer Finnegan, Josh Cooke) have been together for nine years, but not with rings on their fingers. "It's a valid life choice," she keeps saying. So much so that her parents have turned it into a drinking game.
The parents are Joel and Vicky (Kurt Fuller, Debra Jo Rupp), veterans of a 35-year marriage that pretty much has settled into a nice little happy valley of little expected, little given, little taken. Having sex has become laughable, as is the question, "You wanna fool around?"
Meanwhile, their youngest daughter, Mia (JoAnna Garcia) is all bubbly about getting married to a guy she's only been seeing for seven weeks. He's a doofus but self assured dude named Casey (Jake Lacy), for whom "grammar's not really my thing."
Maddie and Ben are threatened by her sister's impulsive decision to get hitched while Joel and Vicky are unaccountably pleased -- at least in Maddie's view.
Another development is thrown into Wednesday's premiere episode. No need to spoil it, but look for some funny one-liners from Casey once the word gets out.
This may turn out to be an OK way to while away the half-hour between
The Middle
and
Modern Family
. Lacy as Casey is the best reason to watch while Finnegan remains an appealing actress whom some might remember as a dogged prosecutor for two seasons on CBS'
Close to Home
crime drama.
In the end, maybe "agreeable" is a better way to go than "not too bad."
Better With You
so far is nothing to write home about but maybe worth letting into your living room.
GRADE:
C+