Crystal back on Oscar track
11/10/11 06:28 PM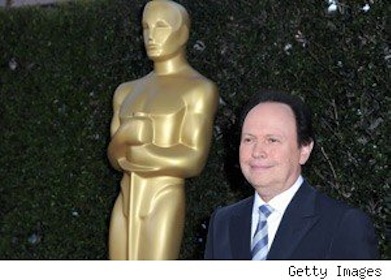 By ED BARK
As expected, the Academy of Motion Picture Arts and Sciences acted fast in naming an Oscar host to replace Eddie Murphy.
Not surprisingly, it's old warhorse Billy Crystal, who will return for his ninth time as host -- and the first time since 2004.
Crystal, 63, immediately dated himself. "I am doing this so that the young woman in my pharmacy will stop asking me my name when I pick up my prescriptions," he quipped in an ABC publicity release.
The Academy tabbed Crystal the day after Eddie Murphy dropped out as host in support of his friend and the show's previous co-producer, Brett Ratner. He had been sacked after making a gay slur during a public screening of the feature film
Tower Heist
, which Ratner directed with Murphy co-starring.
Crystal, who made a crowd-pleasing appearance as a presenter during the latest Oscar-cast, is a generational departure from the "young Hollywood" hosting duo of Anne Hathaway and James Franco. She made a game go of it, but his seemingly disinterested participation got widely panned.
The 84th Oscar ceremony is scheduled to air Feb. 26th on ABC.