Masters of Sex fast-forwards both its setting and its children in a searing start to Season 3
07/08/15 04:22 PM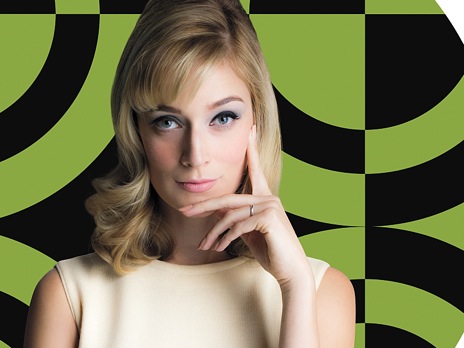 No longer underfoot, a vexed but resilient Libby (Caitlin FitzGerald) keeps upping her game in Season 3 of Masters of Sex.
Showtime photo
By ED BARK
@unclebarkycom on Twitter
Given their prominence in Season 3's strong opening episode of
Masters of Sex
, it's of no small import to then see a climactic printed disclaimer that basically says, "Just pretending."
"This program is about the important achievements of Masters and Johnson," viewers are informed. "The children Tessa, Henry, Johnny and Jenny are entirely fictitious."
In real-life, both Virginia Johnson and William Masters were parents of two children. But hers were named Scott and Lisa (not Henry and Tessa) while his were William and Sarah (not Johnny and Jenny). The
Sunday, July 12th return of Masters of Sex (at 9 p.m. central on Showtime)
features all four more prominently than ever before, with Henry and Tessa in full-blown rebellion, Johnny on the verge of exploding and Jenny still a little sweetheart.
More explanation is required.
No. 1:
The above disclaimer is new to the series, even though Tessa and Henry in particular were regularly seen during the first two seasons.
No. 2:
The Season 3 premiere begins either in 1966 (according to Showtime publicity materials) or 1965, as it says in the on-screen introduction for both the review DVD and the "On Demand" duplicate already available on most cable systems.
No. 3:
In either case, considerable time has passed. The Season 2 finale ended on Jan. 20, 1961, the day of John F. Kennedy's inauguration. Tessa and Henry, both played by new actors, have undergone rather remarkable growth spurts from the time they were last seen at the breakfast table with mommy.
No. 4:
The no longer malleable kids come to the forefront during a "Four Months Earlier" flashback to a joint fractured family vacation at a lake house. William (Michael Sheen), Virginia (Lizzy Caplan), his nominal wife, Libby (Caitlin FitzGerald) and her ex-husband, George (Mather Zickel) are all more or less trying to make the best of it for the kids' sakes. This doesn't work out at all as planned, with Virginia and a growingly assertive Libby instead doing most of the bonding and commiserating while the ever taciturn William tries to sequester himself with the final stages of what will become the landmark book
Human Sexual Response
.
No. 5:
Episode 1 also toggles back and forth to a "present-day" press conference in which Masters and Johnson are promoting their masterwork. But the real drama is back at the lake house, where a series of searing parent-child confrontations are both painful and instructive. Even if they're all made of whole cloth.
Season 2 of
Masters of Sex
ended rather soapily. Sunday's restart regains its bearings with one razor-sharp scene after another. Libby, battling depression and drug dependence while trying to accommodate her husband's infidelity with Virginia, had her own liaison last season with a black civil rights activist. Now she's more intent on sparing her two children "a life of upheaval and pain." And the best way to do that is a heart-to-heart with Virginia near the end of this very emotionally charged episode.
William's principal dialogues, both of them fever-pitched, are with Tessa (Isabelle Fuhrmann) and Johnny (Jaeden Lieberher). He remains the biggest dick, even in a series of over-sized dildos used for research purposes. But at times he's mindful of re-committing the sins of his own distant father.
Episode 1 ends with a revelation and Episode 2 focuses on its ramifications. This second hour also introduces the King/Shah and Queen of Iran, who are having serious problems conceiving. In real-life, Queen Soraya, wife of Mohammed Reza Pahlavi, in fact visited Dr. Masters' St. Louis clinic in search of help.
Masters of Sex
has them arriving together. But most of Masters' scenes are with Soraya as his patient. Throughout the series he's been capable of genuine compassion at various bedsides while otherwise treating his wife and associates, including Virginia, with a matter-of-fact coldness that at times defrosts.
Masters' handling of Virginia's "situation" is mostly contemptible. It also allows her ex-husband, George, to return as a prominent character. Publicity materials say that Beau Bridges and Allison Janney among others will be back at some point this season in guest star stints. Just don't look for them in the first two hours.
Season 3, which again will have 12 episodes, shows strong signs of fully regaining its bite, passion and fury. The previous season sagged somewhat in those respects while still remaining one of television's better dramas. But now the kids are true characters instead of mostly pliable dependents. Virginia's have become sexual beings with sharpened claws and festering resentments. Johnny Masters still longs for his father's attention but can only take so much indifference.
It's all made up, as that aforementioned disclaimer makes clear. Even so, bring it on.
GRADE:
A-minus
Email comments or questions to:
unclebarky@verizon.net