Reviewing Netflix's Unbreakable Kimmy Schmidt after viewing all 13 Season 1 episodes
03/11/15 01:31 PM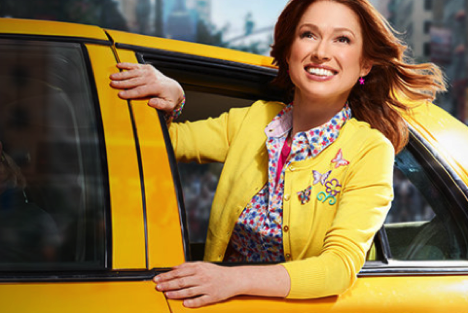 Ellie Kemper stars as happy-go-lucky Kimmy Schmidt. Neftlix photo
Currently streaming:
all 13 Season 1 episodes on Netflix
Starring:
Ellie Kemper,Tituss Burgess, Carol Kane, Jane Krakowski, Sara Chase, Lauren Adams, Sol Miranda, Dylan Gelula, Ki Hong Lee, Adam Campbell with prominent guest star appearances by Jon Hamm, Tina Fey
Produced by:
Tina Fey, Robert Carsick
By ED BARK
@unclebarkycom on Twitter
Channeling a pen-in-hand Jimmy Fallon to write: "Thank you NBC, for rejecting
Unbreakable Kimmy Schmidt
and letting Netflix run it all at once while also removing all of those unsightly broadcast network blemishes."
A carefree 13 episodes emerge, with two-to-four more minutes of content and the complete closing credits, which roll with different music tied to what we've just seen.
This is what also could have happened had NBC passed on the likes of
Community, Parks and Recreations
and Tina Fey's earlier NBC creation,
30 Rock
. More show, easier viewing and full-blown creative freedom.
Kimmy
, from Fey and creative partner Robert Carlock, can be watched in fits, spurts, big gulps and in pretty much any order. Unlike Netflix's
House of Cards
, it won't hurt to pick and choose after watching the premise-setting first episode. So let's outline the particulars before offering some fast-forwarding advice.
Twenty-nine-year-old Kimmy (Ellie Kemper) is one of four "Mole Women" who'd been locked in an underground bunker since 1998 by the Reverend Richard Wayne Gary Wayne (
Mad Men
's Jon Hamm in later episodes). They were led to believe they'd survived the end of the world. But no. Not quite.
After a
Today
show appearance -- host Matt Lauer is called "Bryant" -- the Mole Women go their separate ways. Cheery, big-grinning Kimmy ends up in New York City. She quickly moves into a substandard dump with the very flamboyantly gay Titus Andromedon (Tituss Burgess), who aspires to be a Broadway star but so far has gotten no further than being a cut rate Iron Man on Times Square. Their landlady is senile Lillian Kaushtupper (another loopy turn by Carol Kane).
Kimmy soon falls into a position as nanny for the vain, insecure Jacqueline Voorhees (
30 Rock
holdover Jane Krakowski essentially playing the same part). She lives in a very posh Manhattan apartment while her philandering rich husband always seems to be away on business. "What the ham sandwich. I just got a job!" Kimmy enthuses. She also uses the word "fudge" with regularity.
Although robbed of her going away money after being rescued from the "Underground Apocalypse Cult," Kimmy figures she now can help Titus realize his dreams.
"And you are going to sing at the Grammys with Whitney Houston and Michael Jackson!" she tells him.
"Bad examples. But yes," Titus agrees. He's mostly fun to watch, but wouldn't necessarily wear well in bigger doses.
Kimmy
is nicely stocked with the title character's dated references from the late 1990s. In Episode 3, Jacqueline's bratty teen stepdaughter Xanthippe (Dylan Gelula) tells her, "I've been googling you."
"You have? I didn't feel it," says Kimmy.
It goes on like this, with Kimmy's misadventures piling up in ways that aren't supposed to make any real sense. The 13 episodes all were made for NBC before being deemed unfit for the network's prime-time schedule. So the humor remains faintly broadcast network-y for now, although Season 2 (already ordered by Netflix) could be more "adult." Or maybe that just wouldn't sit right with these particular characters.
Not all of the episodes are gems and a few are more than a little forced. Which provides all the more reason to jump, if you're inclined, to the utterly farcical trial of Hamm's Rev. Richard Wayne Gary Wayne. It takes up Episodes 11-13, with Hamm a deliciously hammy show-stealer in the face of inept mockups of O.J. Simpson prosecutors Marcia Clark and Christopher Darden. Fey, in short, Clark-like curly hair and trademark face mole, plays Marcia and Jerry Minor is Chris.
Episode 11 finds Wayne singing a few bars from "The Purple People Eater" (a real hit song from the late 1950s, kiddies) while cannily conducting his own defense. Kimmy reluctantly decides to testify against him after striving to put the events of Durnsville, Indiana behind her. "Oh Kimmy, I'll dock your pay accordingly," Jacqueline enthusiastically responds.
The trial and attendant events are a merry-go-round of inspired lunacy, with Hamm scoring repeatedly with lines like, "My ponytail is cool. God said so." So why wait? Get these episodes under your belt sooner rather than later.
Earlier
Kimmy
episodes are sprinkled with guest star appearances by Martin Short, Amy Sedaris, Richard Kind, Dean Norris, Nick Kroll and Kiernan Shipka from
Mad Men
, who in this case doesn't cross paths with her TV dad.
Creators Fey and Carlock instill
Unbreakable Kimmy Schmidt
with the infectious positivity of their title character, who won't give up, no, she'll never give up. Still, her hard knocks life starts taking its toll in later episodes, draining some of Kimmy's ebullience and replacing it with a little petulance. The sunny side up Kimmy is much preferable, but prolonged exposure to the above-ground real world can have soul-sapping side effects if you let it.
It's enough to make a girl stop saying "Gosh darn mummy fudger" and disagreeably exclaim "Party's over!" when her "Big 30-0" birthday bash goes very awry. But that's not until Episode 9. And the show's spring-in-the-step, bright primary colors, reminiscent of
Pee-wee's Playhouse
, are along for the entire Season 1 ride.
GRADE:
B+
Email comments or questions to:
unclebarky@verizon.net