New series review: Bingo America (GSN)
03/28/08 02:48 PM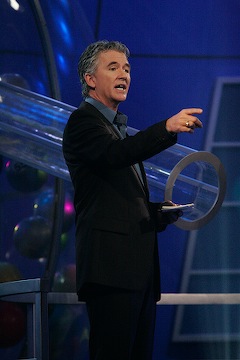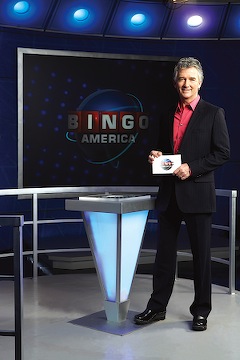 Premiering:
Monday, March 31st at 6 p.m. (central) on GSN and airing each weeknight at that hour
Hosted by:
Patrick Duffy with ball holder Crystal Wallasch
Produced by:
Andrew Glassman
By ED BARK
Work is where you find it, but it's quite a steep plunge from playing Bobby Ewing on
Dallas
to hosting
Bingo America
on GSN.
There's Patrick Duffy, though, gamely smiling and moving things along on this latest TV version of the country's longstanding numbers game.
As with last season's short-lived
National Bingo Night
on ABC, viewers can download their own cards and play along for unspecified cash prizes.
Don't expect too much from a network that in earlier times had a horse race trivia game in which the nightly grand prize was a hardcover dictionary. Still, if you want to try your luck, the cards are waiting
here
.
Duffy still has a reasonably boyish look about him after hitting the 59 mark earlier in March. In an opening episode sent for review, though, he doesn't flex any of the quick wit he's shown as both a talk show guest and on Bill Maher's now defunct
Politically Incorrect
. Surely there should have been a wisecrack coming after contestant Bridget answered "Menudo" to the question, "Bobby Brown was originally a member of what R&B group?"
Duffy and former
L.A. Law
star Corbin Bernsen (who also recently worked for GSN), at least have broken a latter day game show host hammerlock. Most quizzes in recent years have been hosted by a comedian -- Drew Carey, Bob Saget, Howie Mandel, Jeff Foxworthy, Wayne Brady, Dennis Miller, Jimmy Kimmel, etc. -- or a flamboyant Brit (Ed Sanders emceed ABC's bingo show).
It's hard to avoid having a Vanna White, though -- or multitudes of 'em. Duffy's is Crystal Wallasch, an NBA dancer who holds the jumbo Bingo balls and identifies their letters and numbers.
Contestants score Bingo by correctly answering questions from Duffy until they have all five letters lit up. A "Wild Ball," sponsored by Maxwell House coffee, allows them to pick any letter they still need. At-home players simply keep marking their cards.
Bridget's opponent is Keith, who's a virtual
Saturday Night Live
parody of a game show contestant. He alternately claps wildly, laughs loudly or gets all clenched up. Not that we're talking giant prize packages here. The winner's take-home combination of cash and a trip totals $5,110 on the show sent for review.
Oh well,
Bingo America
moves along briskly enough and it won't hurt anybody. ABC found that its version drew heavy traffic to its Web site, if not sustainable Nielsen ratings. GSN's Internet visibility and overall audience levels are still relatively miniscule. So this might help at least a bit.