A Rivers runs through TV Land's new How'd You Get So Rich?
08/05/09 01:14 PM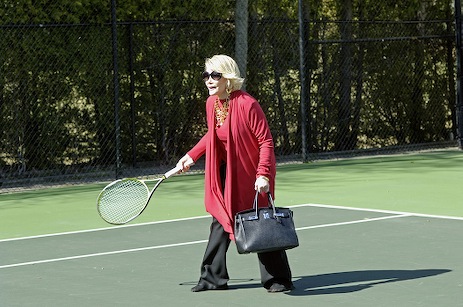 Joan Rivers hosts a new TV Land series about net worths.
Premiering:
Wednesday, Aug. 5th at 9 p.m. (central) on TV Land
Starring:
Joan Rivers and a buncha self-made rich people
Produced by:
Mark Burnett, Barry Poznick, John Stevens
By ED BARK
The red carpet has been pulled out from under her -- first by E!, then by the TV Guide Network.
So Joan Rivers no longer is in a prime position to ask "What are you wearing?" The self-deprecating comic instead resiliently rebounds to badger self-made millionaires with "How'd you get so rich?" This also happens to be the title of her new half-hour TV Land series, premiering
Wednesday, Aug. 5th at 9 p.m. (central).
The basically harmless premiere episode finds Rivers interacting and play-acting with three well-heeled, former poor people. One of them, Jonah White, grew up in a shack with an outhouse before inventing "Billy Bob Teeth." Another, attorney Robert Zarko, arrived from Cuba penniless with his family, started a lawnmower business as a kid and wound up going to Harvard. He supposedly helped to make ends meet by cleaning toilets as a student.
Rivers, 76 and surgically repaired too many times to count, visits all of them in their palatial digs. There she marvels at their creature comforts, cracks some badly dated jokes and fakes taking rides on a bulldozer and a jet skier.
"I haven't ridden anything this big since Al Roker gave me a piggyback ride," she says of the bulldozer White uses to crush trucks as a stress-reducer.
She also tries on various editions of his bad teeth, pulling off a series of double-ply sight gags. He's supposedly made $50 million on 'em.
TV Land so far has ordered just six episodes of
How'd You Get So Rich?
, a creation of reality maestro Mark Burnett, whose
Celebrity Apprentice
was just won by Rivers. At a half-hour running time, they breeze by in a hurry and require no thought. Which is exactly the overall objective.
GRADE:
C+
ADDENDUM:
At the annual network TV "press tour" in Pasadena, Rivers zinged Jay Leno in a way that's likely to merit her a permanent ban from his prime-time NBC show when it cranks up on Sept. 14th.
"I think it's brilliant that they put Leno on at (9 p.m. central) now because Americans get bored more easily and go to sleep earlier," she said when asked to assess the changing talk show scene. "When was the last time you said, 'Did you hear what Leno said last night?' Ah, never. So it's nice for the Midwest because the crops will be greener."