NBC's 1600 Penn leaves a ring around the Oval Office
12/14/12 08:51 AM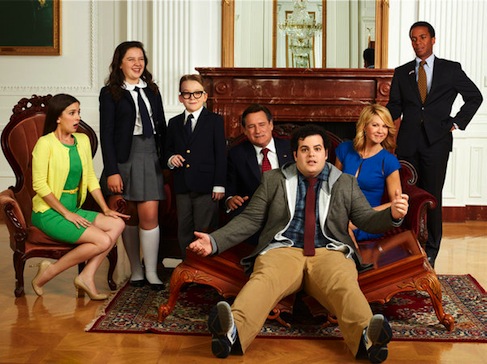 Guess which one is the square peg in the Oval Office. NBC photo
Premiering:
Monday, Dec. 17th at 8:30 p.m. (central) on NBC
Starring:
Bill Pullman, Jenna Elfman, Josh Gad, Martha MacIsaac, Amara Miller, Benjamin Stockman, Andre Holland
Produced by:
Josh Gad, Jason Winer, Jon Lovett, Mike Royce
By ED BARK
@unclebarkycom
The network of
The West Wing
has a lot more screws loose in this particular White House.
Unfortunately, the very broad comedy is sledge-hammered home in
1600 Penn
, which is getting the plush sneak preview treatment Monday night following the fall season's last performance edition of
The Voice
. Providing it survives the trek,
1600 Penn
will re-emerge on Jan. 10th in a Thursday 8:30 p.m. (central) slot.
NBC sent the first three episodes for review. Monday's opener is so off-putting that the marginally improved second and third half-hours may be beside the point.
Bill Pullman (previously the president in
Independence Day
) and Jenna Elfman (
Dharma & Greg
) are the name brand stars as President Dale Gilchrist and First Lady Emily Nash Gilchrist, whom he married after the mother of his four kids died. But
1600 Penn
basically is a forum for misfit, rotund First Son "Skip" Gilchrist (Josh Gad from
Book of Mormon
), who shrilly cavorts like a young Chris Farley in heat.
The overall intent is to make child the father to the man, who just happens to be the leader of the free world. But gad, Gad, take it down at least 10 notches and then succumb to a long, warm bath without any rubber duckies. Once upon a time, Robin Williams may have over-acted as Mork from Ork. He was a corpse compared to this guy.
Skip, in his seventh year of college, is first seen with a collection of very nerdy buds outside a frat house. They attempt to pull a prank that of course misfires, leaving poor President Gilchrist again at the mercy of the press corps he despises. Even so, Dad decides it's time for Skip to return home and instead wreak havoc in the White House. Which he does -- before everything works out in the end. Or as NBC publicity materials put it, "Despite his many well-intentioned yet misguided efforts, Skip is the glue that holds this family together."
NBC, also the network of
The Biggest Loser
, makes a running joke of this big loser's compulsive over-eating of junk food concoctions. This seems more than a little counter-productive, although Gad as Skip conceivably could put together a little post-
1600 Penn
disclaimer in which he tells viewers, "Don't be like me. Eat a carrot once in a while."
Meanwhile, Pullman looks bloated and even constipated as the Prez. The character is supposed to be gruff and lacking in parental skills. But maybe all he needs is a long, long sit-down in the presidential Men's room. One can't blame Pullman for looking constantly uncomfortable, though. A truth serum-induced thought bubble over his head might well read, "So my career has come to this?"
Elfman still looks great, and is better served in some of her scenes with the kids she's trying to win over. Besides Skip, she has a newly pregnant stepdaughter named Becca (a gradually appealing Martha MacIsaac) and twins Marigold and Xander (Amara Miller, Benjamin Stockham).
In what seems to be a rather transparently clumsy effort to be inclusive, virtually every one of the Gilchrists' aides is a minority. But only White House press secretary Marshall Malloy (Andre Holland) is a regular member of the cast.
The President is not affiliated with any political party in these first three episodes. And other than being intent on taking out terrorists, his political positions likewise are a mystery. Sorry, MSNBC and Fox News Channel. There's nothing to get outraged about, unless you want to rail against substandard comedy.
MSNBC's Joe Scarborough, Mika Brzezinski and Willie Geist nonetheless are along for the ride with cameos in Episode 2. And the inevitable Jay Leno pops up at the close of Monday's premiere. We're supposed to believe that a young person not only is watching
The Tonight Show
but also laughing at Leno's monologue. Then again, we're only talking Skip here.
It all gets at least a bit better in the two episodes beyond the opener. Gad even appears to be modulating himself a little during the course of constantly screwing up while also saving the day.
Still, nothing here works well enough to merit a loyal following.
1600 Penn
at best is a comedy that plunges off its own "fiscal cliff." In that respect, Washington's fractious Democrats and Republicans likely could unite to unanimously pass a bill in which they hereby declare, "Watch us on C-SPAN instead."
GRADE:
C-minus
unclebarky@verizon.net