NBC takes a few last jabs as O'Brien takes another late night shot with TBS' Conan
11/09/10 07:27 AM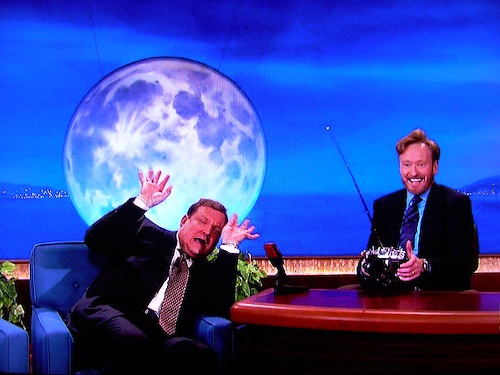 Conan O'Brien and sidekick Andy Richter mess with a movable full moon during Monday's premiere of TBS' Conan. Photos: Ed Bark
By ED BARK
Conan the Contrarian is back after nine-and-a-half months as a Red-Headed Stranger to post-prime time TV.
"It's not easy doing a late night show on a channel without a lot of money that people have trouble finding," he said during his maiden monologue Monday for TBS' saturation-promoted
Conan
. "So that's why I left NBC."
Good one. And pretty good for starters in what will be O'Brien's war for advertiser-coveted younger viewers in a growingly crowded battlefield.
His
last Tonight Show
was way back on Jan. 22nd, giving O'Brien much of this year to grow a beard, launch a reliably funny
Twitter account
and hit the road with his Legally Prohibited From Being Funny on Television Tour. NBC had paid him $45 million as a lovely parting gift, $12 million of which went to his staff.
Monday's
Conan
, as did his inaugural
Tonight
, began with a short film on the transition. In the first film he ran coast-to-coast from Manhattan to Burbank. This time it was "Last Season on Conan," with O'Brien balking at moving
Tonight
back a half-hour to accommodate a proposed new late night half-hour hosted by Jay Leno.
Exiting NBC, he then was swiss-cheesed by four machine gun-wielding assailants in a scene borrowed from Sonny Corleone's gyrations in
The Godfather
.
"You'll never work in network television again," he was told while bandaged from head to toe in a hospital room. But a recalcitrant wife -- "Conan, you
have
to get a job. We have 14 kids" -- spurred him to a failed ad agency interview with
Mad Men
's Don Draper (Jon Hamm in his latest cameo) before miserable stints as a Burger King worker and birthday party clown.
Poised to end it all by jumping off a bridge, O'Brien was dissuaded by a wings-wearing Larry King, who intoned, "I have two words for you. Basic cable."
That led him to the TBS lifeboat and a new contract reading "MUCH. LESS." Re-enter the machine-gunners before O'Brien triumphantly took his new Warner Bros. Studios stage while the studio audience went bananas. "Welcome to my second annual first show," he told them.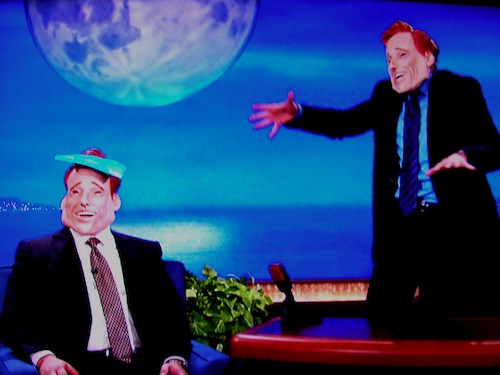 Together again at the host's latest desk, Richter and O'Brien sport real-life Halloween masks that were labeled "Ex-Talk Show Host."
O'Brien trimmed back his beard for the occasion. And the show's Jimmy Livino and the Basic Cable Band is without its previous leader, Max Weinberg, who declined to participate.
But Andy Richter again is in tow, and the show works much better with him than without. Desk mates otherwise have been drummed out of the late night terrain in the post-Ed McMahon era. But O'Brien is that rare generous host who not only makes room for sidekick Richter's ad libs, but laughs uproariously at some of them.
Richter was in terrific form on Monday's opener. When O'Brien played around with the show's behind-the-desk movable moon, Richter cracked, "It's got that incredibly realistic lunar wobble."
They later donned cheap-looking, real-life "Ex-Talk Show Host" masks made in O'Brien's likeness. "Inside it smells like tears," Richter riffed.
A
faux
congratulatory film from Ricky Gervais led to the "the winner of our rigged first guest contest," conducted via
teamcoco.com
. The 12 initial possibilities ranged from Pope Benedict to Lady Gaga to Jack Nicholson. But the winner, in what turned out to be a lame procession through the studio, was
Leavenworth Nutcracker Museum
curator Arlene Wagner. Yes, the place actually exists. Yes, she's the curator.
Otherwise the guests were actor Seth Rogen and
Glee
star Lea Michele, both of whom were reasonably entertaining but no match for rescued Chilean miner
Edison Pena
on last Thursday's edition of
Late Show with David Letterman
.
O'Brien wrapped things up by singing and playing guitar with Jack White as they replicated a rockin' tune they recorded together in Nashville. Ax-wielding late night talk show hosts start and stop with O'Brien. So he might as well take advantage of it.
It all made for a pretty smooth-sailing return for the much-lionized O'Brien. Now the war of attrition sets in, with Jon Stewart's
The Daily Show
and Chelsea Handler's
Chelsea Lately
directly opposite the first half-hour of
Conan
before
The Colbert Report
, Leno's slumping
Tonight
, Letterman's resurgent
Late Show
and ABC's sturdy
Nightline
kick in. Will there be reason enough to make the switch to O'Brien -- or at least record his show for later use?
Despite all the basic cable jokes, TBS is spending a relative fortune to make
Conan
work. If he doesn't fly this time, the next stop could be Artie Ptomaine's Comedy Dinner Playhouse in Encino. But nah, it won't ever come to that. Right?
O'Brien and Jack White close out Monday's premiere of Conan.