Take Two gives ABC another Castle -- in premise if not execution
06/20/18 02:02 PM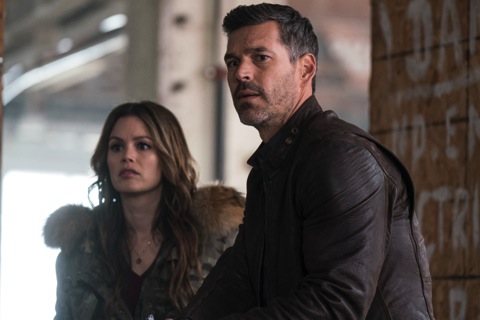 Take Two is a sand Castle starring Rachel Bilson and Eddie Cibrian.
ABC photo
Premiering:
Thursday, June 21st at 9 p.m. (central) on ABC
Starring:
Rachel Bilson, Eddie Cibrian, Xavier de Guzman, Aliyah O'Brien, Alice Lee
Produced by:
Andrew W. Marlowe, Terri Edda Miller, Rola Bauer, Tim Halkin
By ED BARK
@unclebarkycom on Twitter
From the creator of
Castle
, here's another
Castle
-- only in reverse.
ABC's
Take Two
pairs a financially hard-pressed, veteran male detective with the scandal-ridden, fresh out of rehab female star of a onetime hit cop series. Offered the lead in a possible feature film role, she hopes to bring further "authenticity" to her performance by teaming with a real-life crime solver.
ABC's
Castle
, which ran from 2009 to 2016, paired a female homicide detective with a famed mystery novelist who's lately developed writer's block. Brought in for questioning after a copy-cat killer replicates one of his earlier books, he hopes to resume writing after shadowing the gumshoe he envisions as a muse for a new fictional character.
Kate Beckett (Stana Katic) initially didn't at all like having Richard Castle (Nathan Fillion) both by her side and bugging her with his own theories on whodunit. Ditto for PI Eddie Valetik (Eddie Cibrian), who's greatly annoyed by Sam Swift's (Rachel Bilson) constant theories on who did what and why.
Richard Castle's "in" was the mayor of New York City, a longtime friend who strongly urged Kate Beckett to play ball. Sam's go-between is one of cash-strapped Eddie's former girlfriends, who's willing to pay him very well for letting her tail him for just a week. "I'd rather swallow razor blades," he grouses before of course relenting.
There's also this. Sam's hit TV series,
Hot Suspect
, lasted eight seasons before her drunken escapade led to both cancellation of the show and a stint in rehab for its star.
Castle
likewise endured for eight seasons on ABC, and the network hasn't had a successful "crime procedural" hour since then.
Andrew W. Marlowe is the mind behind both
Take Two
and
Castle
. He can't very well sue himself for plagiarism, but might want to declare creative bankruptcy. On the other hand, ABC would kill for another
Castle
, even if this very transparent knockoff is being relegated to the less visible summer season -- at least for starters.
ABC made the first two episodes available for review. The cases typically are preposterous, and the deductions even more so. But as with
Castle
, this one will sink or swim on the banter and appeal of the two leads. Bilson grades a bit higher on these curves while Cibrian sucks it up and regularly swallows hard. By the end of Thursday's premiere episode, he's telling her, "For what it's worth -- you didn't suck."
The rest of
Take Two
's ensemble is smaller than usual, perhaps in part because this is a cost-efficient co-production with German and French companies.
Xavier de Guzman plays Robert "Berto" Vasquez, the inevitable young tech whiz employed by Eddie to advance the ball whenever the writers get lazy. The Mike Hammers and Barnaby Joneses of TV's crime solving past had no such help. They just had hunches.
LAPD detective Christine Rollins (Aliyah O'Brien) is a no-nonsense facilitator who not surprisingly spends off-hours in Eddie's embrace. A new character named Monica (Alice Lee) is introduced in Episode 2 as Sam's roller-skating, wisecracking, Instagram-ready young assistant.
Take Two
comes nowhere close to matching the glories of ABC's
Moonlighting
or NBC's
Remington Steele
, both of whose odd couple crime solvers really rocked.
Castle
also fell well short of those two, but did pass ABC's endurance test. The alphabet network's too often clunky carbon copy resorts to lines such as Sam angrily informing Eddie, "You really put the dick in detective!"
The way these things go, he's almost certain to eventually be putting it elsewhere if
Take Two
last a while. But Castle and Beckett didn't fully consummate their off-on-off-on romantic relationship until the close of Season 4. Sam and Eddie may not get nearly that much time. By Episode 2, though, they're already locked in very close quarters in a closet, where Sam seems to think he's pretty excited before Eddie says it's only his gun. Oh.
GRADE:
C
Email comments or questions to:
unclebarky@verizon.net