Fox hits the 25-year mark and salutes itself with a Sunday night anniversary special
04/20/12 02:10 PM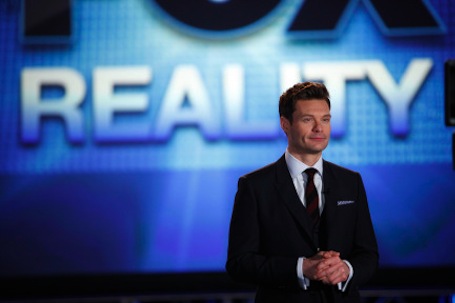 Twenty-five years later, Fox is a sobering reality for rival networks.
Fox photo
By ED BARK
Prime-time television wouldn't be the same without Fox.
And the network won't mind saying so Sunday night with a two-hour
Fox 25th Anniversary Special
(
7 p.m. central
) hosted by the ubiquitous Ryan Seacrest and featuring cast reunions of series ranging from
Married . . . with Children
to
The X Files
.
"This is going to be an amazing trip down memory lane filled with plenty of surprises that will showcase our hits, our misses and everything in between," Alternative Entertainment president Mike Darnell says in a publicity release.
Darnell's division is responsible for both the highest of highs --
American Idol
-- and "reality" genre low points such as
Celebrity Boxing
and
Who Wants to Marry a Multi-Millionaire?
But in the cold hard reality of the current prime-time season, Fox is poised to win yet another victory among TV's most valued audience, 18-to-49-year-olds. And it will finish second to CBS in the total viewer Nielsens.
Fox officially made its prime-time debut on April 5, 1987 with the launches of
Married . . . with Children
and
The Tracey Ullman Show
. Derided at the time as a "coat hanger network" because of its dependence on a large percentage of UHF stations, Fox is now the network that its rivals aspire to be.
It has fewer prime-time hours to program each week, which saves millions upon millions in development costs. It has NFL games and the World Series. Its expanded local news hours on owned-and-operated stations (including Fox4 in DF-W) have generated major profits around the clock, particularly in the mornings. And its younger audience demographics have been the best in the business for seven consecutive seasons.
Idol
, although slipping in its 11th season, ranks as the biggest prime-time cash cow in the history of network television. And Fox also has distinctively branded itself over the years with the likes of
The Simpsons, The X Files, COPS, In Living Color, Beverly Hills 90210, Arrested Development, Ally McBeal, 24, House, Glee, Family Guy
and the aforementioned
Married . . . With Children
.
The network still hasn't established a reliable weekly late night presence, with
The Chevy Chase Show
and
The Late Show with Joan Rivers
its two most notable failures. And it has left its share of rings around the prime-time tub with a wealth of unscripted weekly embarrassments such as
Temptation Island, Anchorwoman, Joe Millionaire, The Littlest Groom
and
The Swan
.
Seacrest was on the cusp of becoming a teenager when the Fox network first went on the air with just two half-hour sitcoms on a Sunday night. Just over 25 years later, Fox has allotted itself two hours on that same night to bask in what's now its storied past.
Note to readers:
I've covered the Fox network since its inception. And on our
Back Channels page
, you can find a now vintage story on the network's preparations to take a big gamble nationwide while its owned-and-operated station in Dallas (KDAF-TV at the time) exuded high hopes.