Two Murdochs and a shaving cream pie provide the latest cable TV theater
07/19/11 11:58 AM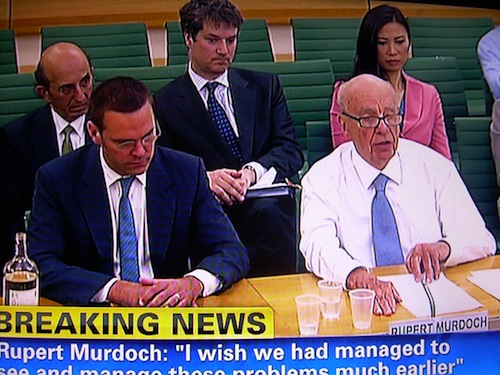 Rupert Murdoch makes a closing statement, with son James in tow.
Photo: Ed Bark
By ED BARK
Just what Rupert Murdoch needed -- a shaving cream pie to the puss.
Actually, it may have been
exactly
what he needed to perhaps gain a little sympathy after a long Tuesday morning (U.S. time) of taking no direct responsibility for the phone-hacking scandal bedeviling his far-flung World News Corporation.
Murdoch, 80, initially came off as befuddled, sometimes belligerent and almost blindingly out of the loop regarding events that led to his appearance before a parliamentary committee. The testimony of Rupert and his 38-year-old son, James, was carried live in its entirety on an array of cable news networks that included CNN, MSNBC, CNBC, BBC World News, Current and the Murdochs' Fox News Channel.
"This is the most humble day of my life," Rupert said at both the open and close of an almost three-hour hearing that was marred down the stretch by a male spectator who managed to breech whatever security there was and hit the media baron in the face with a tin full of shaving cream. Viewers never got a full frontal view of the after-effects, but did see Murdoch's wife, Wendi Deng, 37 years his junior, literally launch herself at the attacker.
A 15-minute recess ensued, with the Murdochs then showered with apologies and praise for their willingness to proceed. "Mr. Murdoch, your wife has a very good left hook," committee member Tom Watson said.
In a way the Murdochs couldn't have scripted it any better. Instead of egg on his face, Rupert briefly absorbed some cleansing shaving cream. Still, the overall impression taken from this worldwide TV stage show is that the elder Murdoch has reached the point where he's fit to be no more than a caretaker for his media empire.
In the early going, son James oftentimes tried to interject in the interest of protecting his father. And Rupert himself likewise sought to defer to his heir apparent, telling the aggressive Watson, "I think maybe that's a question, again, for James."
But Watson kept re-directing back to Rupert, at one point tellingly rebuffing James when he again sought to interrupt.
"It's revealing in itself what he (Rupert) doesn't know and what executives declined to tell him," Watson deduced.
The son oftentimes gave expansive answers, although many of them were couched with his morning-long disclaimer that "I have no direct knowledge."
Both Murdochs apologized again and again, but Rupert otherwise held himself blameless.
"Do you accept that ultimately you are responsible for this whole fiasco?" committee member Jim Sheridan asked him.
"No," Rupert said bluntly. He instead blamed "the people that I trusted to run it (primarily the now shuttered
News of the World
newspaper) and then maybe the people that they trusted." The bucks reside in his wallet, but the buck stops short of him.
Murdoch also was pressed on how often he spoke to editors of his various newspapers. He "very seldom" spoke to anyone with
News of the World
and has his most regular contact with editors of
The Wall Street Journal
, Rupert said.
"I'm not really in touch," he added, inadvertently speaking volumes while in fact only referring to the newspapers he owns. Arch enemy MSNBC, which can be expected to pound the Murdochs to pulps during its analysis of the hearing, quickly and childishly put up an out-of-context "Rupert Murdoch: I'm not really in touch" banner during its live coverage. And during the break after the shaving cream incident, a British analyst for CNN ridiculed James as talking in "his rather management-speak Donald Duck accent."
CNN personality Piers Morgan, who formerly worked for Murdoch's
News of the World
(1994-'95) and another British tabloid,
The Daily Mirror
(1995-2004), for the most part defended his old boss during Monday's edition of
Piers Morgan Tonight
. It was the first time he had publicly commented on the phone-hacking scandal.
"For the record, I do not believe that any story that we published in either title was ever gained in an unlawful manner," Morgan said on his program.
But during Tuesday's parliamentary hearing, committee member Louise Mensch dropped Morgan's name and quoted him as saying in his 2005 book,
The Insider: Private Diaries of a Scandalous Decade
, "that that little trick of entering a standard 4-digit code allowed anyone to call a number and hear all your messages."
"In that book," Mensch added, "he (Morgan) boasted that 'using that little trick' enabled him to win 'Scoop of the Year' on a story about (former English soccer manager) Sven-Goran Eriksson."
Neither Murdoch commented directly on the allegation while Morgan was quick to deny it as "complete nonsense" via a Twitter retort that was
posted on cnn.com
among other outlets.
"I've never hacked a phone, told anyone to hack a phone, or published any stories based on the hacking of a phone," Morgan tweeted.
He later dressed Mensch down on CNN after she refused to repeat her allegations in the absence of "parliamentary privilege" that gave her immunity from any lawsuits. Morgan accused her of a "deliberate and outrageous attempt to smear my name." He also called on Mensch to "show me some balls" by daring to make her claims outside of parliament. She declined.
What a tangled world we live in. But Mensch then hit the motherlode, and got at the essence of how Rupert Murdoch intends to proceed by asking him point blank: "Mr. Murdoch, have you considered resigning?"
"No," he answered.
"Why not?" she asked.
Murdoch said it was because the people who betrayed him were at fault. "It's for them to pay. I think that frankly I'm the best person to clean this up."
Charitably put, the elder Murdoch gave absolutely no evidence of being Mr. Clean-up during Tuesday's hearing. Instead he came off as disengaged and distanced, rather than a hands-on captain of his many ships. What we saw first-hand was a very ancient mariner without a compass.
Son James, who appears to be a bit more on the ball these days, built a wall of deniability around him by repeatedly claiming "no knowledge" of key events in the scandal until after others had blown the whistle.
Both pledged to do better, of course. And by the way, they're really, really sorry.
"Things must be put right," Rupert said. "No excuses."
Until the next time. And in that respect, the Murdochs aren't much different than any other corporate titans. Tuesday morning's pre-choreographed display of contrition with little admission is pretty much the way of the world. And it's only getting worse.
All in all, though, it made for reasonably "good television," with some parliamentary members standing out with their aggressive questioning while others pretty much fumbled about. A pie in the face added a little Three Stooges ambience before the Murdochs returned to be told that "it is extremely good of you to agree to continue this session."
No, it wasn't. Not really. Rupert still hadn't yet read his prepared act of contrition, which the committee had asked him to save for the end. Mere shaving cream -- let alone a gooey cherry pie -- weren't about to deny him his big finish.
We'll close with video of the Mensch-Morgan confrontation, which ended up being a better sideshow than pie a la Murdoch.