Sharknado 2: The Second One is chewy, screwy and chock full of cameos
07/29/14 09:38 AM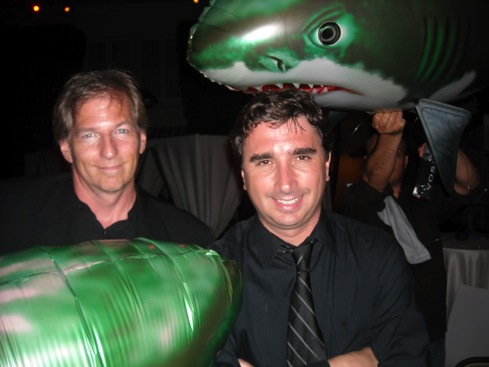 From left, the brains behind Sharknado: Scriptwriter Thunder Levin (real name) and director Anthony C. Ferrante. Photos: Ed Bark
By ED BARK
@unclebarkycom on Twitter
Jaws
became the
Sharknado
of its day with sequel No. 2,
Jaws 3-D
. Or maybe it was sequel No. 3,
Jaws: The Revenge
, in which double Oscar-winner Michael Caine cavorted as lippy pilot Hoagie Newcombe.
Sharknado 2: The Second One
, with two-time Emmy-winner Judd Hirsch as its Caine, is not burdened with blemishing its original standard-bearer. Quality-wise, it's hard to sink much lower. And in that expectations game, director Anthony C. Ferrante and writer Thunder Levin have re-teamed to kick it up a notch with SyFy Channel's energetic sequel to last July's Twitter sensation. Taking bites out of the Big Apple for its second helping, it premieres on
Wednesday, July 30th at 8 p.m. (central).
This time around, original stars Ian Ziering and Tara Reid share screen time with a gaggle of familiar faces looking to cash in on the
Sharknado
phenomenon. Hirsch, the former
Taxi
star, has a full-blown supporting role as, of course, a New York cabbie. Others are more fleetingly seen, although Matt Lauer and Al Roker pop in and out throughout the film as their
Today
show selves. Roker at one point says, "Think of it this way. This is a twister with teeth." SyFy and NBC are both part of the Comcast Universal family, so why not?
Ziering, as former star surfer turned shark slayer Fin Shepard, and Reid (his ex-wife, April Wexler), are hoping to reconcile during a trip to New York to see his sister, Ellen (Kari Wuhrer), and brother-in-law Mark Brody (Mark McGrath), with whom Fin has issues. But things happen in
Sharknado
movies. And during a suitably ridiculous but crisply mounted action sequence in the opening minutes, their Santa Mira Airlines flight to NYC is severely hampered by funnel clouds of swirling sharks.
It's a gas seeing Robert Hays of
Airplane!
fame as the pilot while Kelly Osbourne plays a flight attendant who's star struck by the two heroic survivors of L.A.'s saber-toothed near-apocalypse. April manages to autograph a copy of her
How to Survive a Sharknado
book before suffering more than just a flesh wound. Fin ends up piloting the plane to a crash-landing in NYC before the danceable "Ballad of Sharknado" theme song kicks in. Vocals are by Ferrante himself, with a guitar track from Robbie Rist (cherubic little cousin Oliver during the waning weeks of
The Brady Bunch
). Thought you'd want to know.
After a laughably tender scene with April (recuperating at a hospital whose doctors include Billy Ray Cyrus), Fin is off to the New York Mets' Citi Field, where it's been deduced that the sharks will strike first. A game is in progress. And among those in attendance is former Mets slugger Harlan "The Blaster" McGinness (played by Richard Kind).
The Blaster remains haunted by a strikeout in his last major league at bat after yearning to hit a climactic home run for his "Pops." His consolation prize is swatting a shark against the outfield scoreboard during the onset of another sharknado attack. Beautiful.
By the way, Vivica A. Fox drops in for more than a cup of cpffee as Skye, a former girlfriend of Fin's who's still sweet on him. Judah Friedlander (
30 Rock
) also has more than a little to do as a reluctant shark fighter named Bryan. But Hirsch is the literal driving force, expertly piloting his yellow taxi throughout the imperiled streets of NYC. In the early going, his crusty cabbie gets to say, "Almost crapped in my pants." That's special.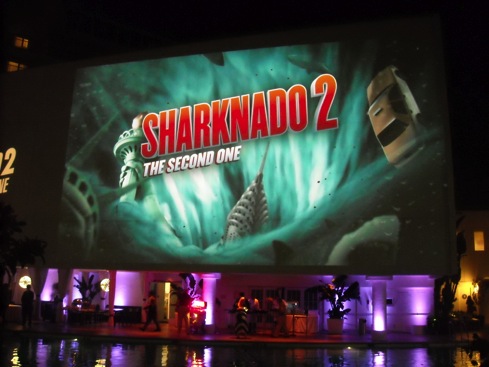 As seen on poolside wall of the Beverly Hilton at earlier screening.
Those who succumb to
Sharknado2
also can thrill to the sight of the Statue of Liberty's severed head rolling like a bowling ball through Manhattan. That's a pretty potent special effect. But the film's later rope swings to safety -- after Hirsch's cab gets stalled in Manhattan's flooded, shark-infested streets -- are almost too threadbare for words. The sequence does inspire a fairly clever word play, though.
Others in the cameo cavalcade include Kelly Ripa, Michael Strahan, "Downtown" Julie Brown, Andy Dick, Perez Hilton, Daymond John of
Shark Tank
, Jared Fogle the Subway guy and Robert Klein as the very grateful mayor of New York City.
Whatever the impending crisis, Ziering's Fin cuts a mean swath and has two signature scenes involving his trusty chainsaw and sharks on the receiving end.
The overall effect isn't quite intoxicating, and it might be better if you're intoxicated in one form or another. Still,
Sharknado 2: The Second One
is part of a continuing pop culture chain of events that doubles as a
rags-to-riches success story for a likable rag-tag director
.
Ferrante's "vision" for
Sharknado
was incubated in his earlier SyFy cheese ball film,
Leprechaun's Revenge
. He referenced the term there, and then talked SyFy into following through with a self-standing movie.
A third
Sharknado
movie is in development, and at some point it will all have to stop. Or maybe not. Just three days after its first airing of
Sharknado 2
, SyFy will proudly present
Sharktopus vs Pteracuda
on Saturday, August 2nd.
Conan O'Brien has sent postcards to TV writers touting "A CAREER-DEFINING PERFORMANCE" in the film. "I've never worked so hard to meet the dramatic demands of a performance . . . I want this to be my legacy," he says.
Robert De Niro can't be all that far behind.
GRADE:
C+
Email comments or questions to:
unclebarky@verizon.net