Beijing's opening ceremonies a ratings smash for NBC
08/11/08 05:11 AM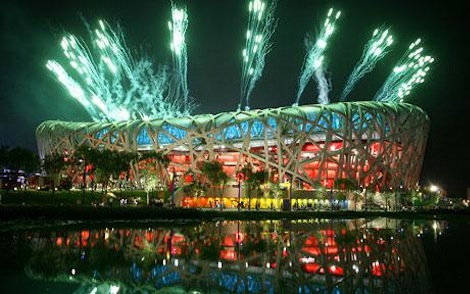 By ED BARK
What a night for NBC and Chinese takeout.
Friday's super-spectacular opening ceremonies for Beijing's Summer Olympics averaged 34.2 million viewers nationally to become the most-watched non-U.S. starter in the Games' history.
Four years ago on NBC, the opening ceremony from Athens averaged a comparatively paltry 25.4 million viewers.
The national household rating -- 18.6 -- beat the long-held "non-domestic" record of 18.1 for the 1960 Games from Rome. Nielsen Media Research didn't begin issuing total viewer ratings until the 1988 Olympics in Seoul, which drew an average of 22.7 million on opening night.
The all-time champ in household ratings is still the 1984 first look from Los Angeles, which had a 23.9 and drew 48 percent of all homes with televisions in use. But due to ratings inflation over the years, Atlanta's 1996 opening ceremony, with a slightly lower 23.6 household rating, qualifies as the all-time total viewer champ with 39.8 million.
Beijing's curtain-raiser wasn't anywhere near Super Bowl proportions. This year's SB XLII on Fox, in which the New York Giants upset the New England Patriots, averaged an all-time total viewer record of 97.5 million.
Still, Friday's Olympics extravaganza easily outdrew last season's most-watched weekly series -- Tuesday editions of
American Idol
-- which averaged 27.7 million viewers.
NBC's Saturday prime-time coverage of the first full day of Olympics competition averaged a hefty 24.1 million viewers nationally compared to 19.8 million viewers for Day One of the Athens Games.
Saturday's total day-and-night Olympics viewership on all of the NBC Universal networks stood at 92 million viewers, up 14 million from Athens.