CBS will do Dave (and Craig) for at least three more years
04/03/12 11:46 AM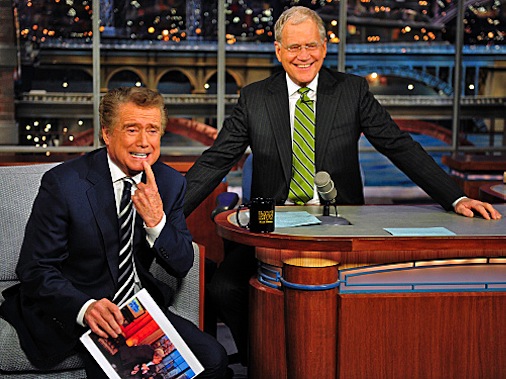 Long-lasters Regis Philbin and David Letterman in their elements. CBS photo
By ED BARK
David Letterman may not be the biggest fan of the human race. But unlike Keith Olbermann, at least he can keep a job.
CBS announced Tuesday that Letterman's
Late Show
has been renewed through 2014 as has Craig Ferguson's followup
Late Late Show
, which will be moving to larger stage at CBS Television City, says the network.
Assuming that all goes well, Letterman soon will surpass his idol, Johnny Carson, as the longest-running late night host in TV history. The late Carson logged 30 years on NBC's
Tonight Show
before calling it a day. Letterman began on NBC in 1982 as host of the network's
Late Night
before making his CBS debut on ug. 30, 1993 after being passed over as Carson's successor.
"David Letterman is a late night legend with an iconic show and Craig Ferguson continues to evolve the genre in exciting and innovative ways," CBS entertainment president Nina Tassler said in a publicity release.
Letterman turns 65 on April 12th. Ferguson, who has hosted
Late Late Show
since 2005, will be 50 on May 17th.
Letterman's featured guest on Tuesday (April 3rd) is Olbermann, who on Friday
got fired from his latest job
, as host of Current TV's now defunct
Countdown
.
Earlier in his long tenure on
Late Show
, Letterman mercilessly twitted the network's big boss, Leslie Moonves, to the point where his show seemed in jeopardy of being canceled. But they eventually made amends, and Letterman remains standing despite consistently trailing NBC's
Tonight Show with Jay Leno
in the after-hours Nielsen ratings.
Olbermann, who now is vowing to sue Current TV, has never played well with others. It will be intriguing to see how these two Exhibit A anti-socials play off one another on Tuesday. Will Letterman dare scold Olbermann this time? Doubtful but possible.