Documentary review: Alive Day Memories: Home From Iraq (HBO)
09/07/07 02:00 PM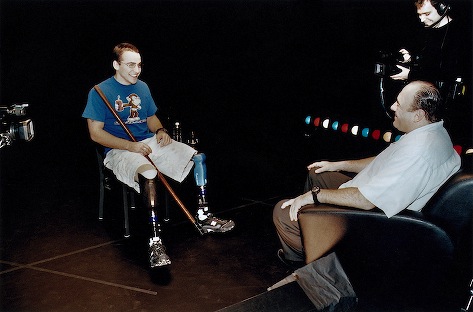 Army Cpl. Jonathan Bartlett talks to a receptive James Gandolfini.
Premiering:
Sunday night, Sept. 9 at 9:30 (central) on HBO.
Featuring:
James Gandolfini with 10 wounded Iraq war veterans
Produced by:
James Gandolfini, Alexandra Ryan
By ED BARK
Sad, poignant, painful and inspiring, HBO's
Alive Day Memories: Home From Iraq
won't let you forget it anytime soon.
It joltingly brings home the resilience and suffering of veterans who were spared death but not a lifetime of coping with irretrievable losses. One by one they talk to actor James Gandolfini on a spare New York sound stage. These are the real made men and women, as even Tony Soprano would attest.
All the told, the 10 participating veterans are missing 10 limbs, two eyes and portions of their brains and psyches. The "Alive Day Memories" portion of the documentary's title refers to the date of their injuries.
"It's burned into your memory," says former Army sergeant Bryan Anderson, 25, who understandably wishes it weren't.
People want to celebrate the day, "and I can see their point," Anderson adds. "But from my point of view, it's like, 'OK, we're sitting here celebrating the worst day of my life.' Great, let's just remind me of that every year."
Ex-Army corporal Jonathan Bartlett, 21, is now getting around on two artificial limbs. He's typical of those who fought in Iraq and almost didn't live to tell about it. He doesn't want anyone's pity.
"I don't view it as a sacrifice," he tells Gandolfini. "I was a soldier. I got hurt. It happens."
This is no latter day act on the part of Gandolfini, who
long has spoken out on behalf of America's soldiers in Iraq
. On
Alive Day Memories
he mostly stays out of the picture. But one of the documentary's more affecting moments comes when Jay Wilkerson, previously an Army staff sergeant, talks about trying to regain his memory after taking shrapnel in his cheek that then lodged in his brain.
"You feel empty," he says. "You feel like you're lost."
"Give it time," Gandolfini responds. "Give it time."
"Thank you," Wilkerson says.
"No man, thank you," Gandolfini replies before shaking Wilkerson's hand and hugging him.
Much of this one-hour program might well move you to tears.
Twenty-two-year-old Eddie Ryan, once a Marine sniper, arrives with his caretaker mom. She'd been told he'd never recognize her again after suffering a traumatic brain injury.
"He doesn't want them covered. He's proud of his scars," she says of Eddie's still very visible wounds. But he knows who she is and he still remembers the words to the Marine Corps Hymn.
Ex-Army private Dexter Pitts, also 22, worries about his long-term stability. He's suffering from severe post-traumatic stress and "I don't want to be crazy Uncle Dex that fought in the war."
Dawn Halfaker, 27 and a former Army 1st lieutenant, is without her right arm and shoulder. She wants to be a mother, but knows she'll never be able to pick up her child with both hands. The thought leaves her speechless and teary-eyed.
Combat footage "released by insurgents" shows some of the terrible explosions that claimed the lives and limbs of U.S. soldiers. In many cases we also see the way they were before an "Alive Day" blindsided them. Former Army sergeant Bryan Anderson, 25, used to be a boxer and a gymnast. Forty operations later, he has a functioning right hand remaining.
As of June, more than 25,000 U.S. soldiers have been wounded in Iraq. For the first time in American history, some 90 percent are surviving their injuries.
Alive Day Memories
powerfully tells a very small fraction of their stories, ending with that of former Marine staff sergeant John Jones, 29.
He meets Gandolfini in his dress blues after 46 operations and 16 months in the hospital. Both of his legs are history, but he still has his wife and two children, who "call me dad with robot legs."
They think it's pretty cool, and, in a way, Jones does, too. Latter day video shows him still being able to ice skate with his family.
This is a documentary for the ages.
Grade:
A