Syfy's Helix fights a killer virus and some of its own demons
01/09/14 12:02 PM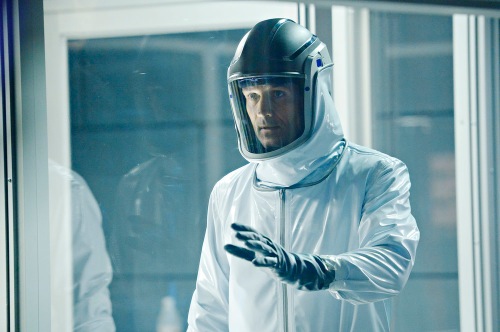 Billy Campbell quickly gets under the hood in Helix. Syfy photo
Premiering:
Friday, Jan. 10th at 9 p.m. (central) with back-to-back episodes on Syfy
Starring:
Billy Campbell, Hiroyuki Sanada, Kyra Zagorsky, Mark Ghanime, Jordan Hayes, Catherine Lemieux, Meegwun Fairbrother, Neil Napier
Produced by:
Ronald D. Moore, Steven Maeda, Lynda Obst
By ED BARK
@unclebarkycom on Twitter
Few actors are more earnest or unsmiling than Billy Campbell.
So the former star of
The Killing
and
Killing Lincoln
is well-suited to playing dedicated, disease-fighting pathologist Alan Farrugut, who's been left "closed off emotionally" by the brief affair his wife, Julia Walker (Kyra Zagorsky), had with his brother. Grim and bear it? Campbell's your man.
His latest downer is Syfy's
Helix
, a 13-episode chiller that encases its principal players in Arctic Biosystems. It's a highly isolated, high-tech la-
BOR
-atory that's suddenly been ravaged by an outbreak of a lethal virus. Farragut, Walker and other experts from Atlanta's Centers for Disease Control converge on the place to crack the mystery. Farrugut is extra-solemn because his unfaithful researcher brother, Peter (Neil Napier), just happens to be one of the infected.
"This is going to be the most fracked up family reunion ever," cracks the series' most consistently engaging character, plain-faced, chubby and tart Dr. Doreen Boyle (Catherine Lemieux). One of her favorite activities is dissecting monkeys.
Arctic Biosystems is headed by Dr. Hiroshi Hatake (Hiroyuki Sanada), who pretty much reinforces the Asian stereotype of being inscrutable and seemingly sinister.
Throughout the first two episodes of
Helix
(presented back-to-back Friday night), Hatake repeatedly balks at being the least bit cooperative while Farragut doggedly strives to get everyone on the same page.
He's a patient man before comically blowing up at Hatake in next week's Episode 3. Either cooperate, Farragut thunders, or he'll spill the beans to the world's major news organizations. Furthermore, "If you think you're afraid of the U.S. military, wait'll you have to keep your secrets from
The New York Post
!"
Wow. And imagine the tabloid's screaming front page headline: "BOY TRAPPED IN REFRIGERATOR EATS OWN FOOT!"
Helix
isn't always laughable, though, and at times can be pretty gripping. The makeup and props departments also have done their jobs well. But can this story sustain itself for 13 hours within a claustrophobic frozen outpost? Crises and mini-revelations are dispensed with the frequency of commercial breaks. Still, how many times can the team be called on to quell a rebellion or track down a runaway infected mutant? Even Campbell seems to grow weary of furrowing his brow or stoically preaching calm in the face of calamity. And this guy's a master.
Syfy publicity materials assure that the death and destruction within the walls of Arctic Biosystems are "just the tip of the iceberg. And as the virus evolves, the chilling truth begins to unravel."
Either that, or
Helix
will start unraveling well before its end point. It's still too early to tell after the three hours sent for review. But there's definitely some fraying at the edges along with all of those odd fluids oozing from various orifices of the afflicted.
GRADE:
C+
Email comments or questions to:
unclebarky@verizon.net