ABC News plans big cuts as part of widespread digital age transformation
02/23/10 05:23 PM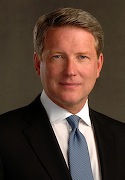 ABC News president David Westin announced big changes Tuesday.
By ED BARK
Company-wide buyouts, further consolidation and a "fundamental transformation that will ultimately affect every corner" of ABC News were dropped like a bomb Tuesday by news president David Westin.
He tried to do it in a statesmanlike way, first praising the programs he presides over as "stronger today than they were 10 years ago." But in "the middle of a revolution" and in the heart of the digital age, ABC News must adapt or perish, he said in a memo to staffers. "We can have great success in the new world -- but only if we embrace what is new, rather than being overwhelmed by it."
To that end, ABC News will "expand our use of digital journalists" while also embracing "the example set by
Nightline
of editorial staff who shoot and edit their own material," Westin said. That will now be standard operating procedure "throughout all of our programs," mandating "digital bullpen training . . . on a scale that we have not seen before."
In other words, a new wave of more cost-effective, so-called "backpack journalists" is on the immediate horizon.
"When we are finished," Westin said, "many job descriptions will be different, different skill sets may be required and, yes, we will likely have substantially fewer people on staff at ABC News."
Voluntary buyout offers will be sent in the next few days to all full-time, U.S.-based, non-union, non-contract employees, the memo said. "The response to this voluntary program will determine the extent to which we will need to make further reductions."
"Overall, we will eliminate redundancies wherever possible," Westin said.
He positioned the upcoming bloodletting and leaner ways of newsgathering as a "rare opportunity to get in front of what's coming, to ensure that ABC News has a sound journalistic and financial footing for many years to come, and to serve our audiences even better."
"I won't pretend that all of this will be easy," he said. "But I do truly believe that it will be good for ABC News."
In Dallas-Fort Worth, ABC affiliate WFAA8 is the only major station not owned by its network. So that may ease the ripple effect, which no doubt will be felt far more keenly by stations with direct corporate ties.