CMT's Texas Women another collection of boobs/boobs
07/14/11 11:10 AM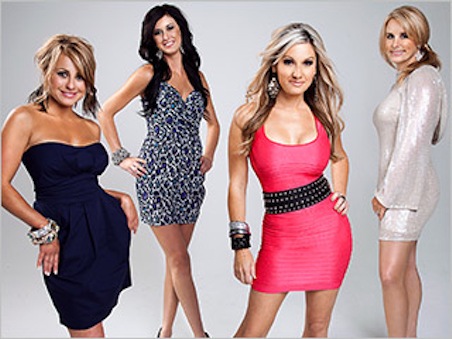 The "young, gorgeous and sassy" stars of Texas Women. CMT photo
Premiering:
Thursday, July 14th at 9 p.m. (central) on CMT
Starring:
Ali Dee, Brooke Jeter, Anna Hunt, Hannah Helvey
Produced by:
Ted Caloroso, Susan Hartman
By ED BARK
We're still a month away from the premiere of Bravo's
Most Eligible Dallas
, in which a "group of Texas socialites proves that everything's bigger in Texas -- including the drama."
No need to wait, though, for another heapin' helpin' of 10-gallon stereotypes. CMT's
Texas Women
, belatedly made available for review, offers up a quartet of "young, gorgeous and sassy women -- working and playing in Fort Worth."
Mostly playing. 'Cause as the theme song notes, "momma" taught all of these girls "how to rip up the town."
The one-hour first episode (
Thursday, July 14th at 9 p.m. central
) includes the onset of "Hurricane" Hannah Helvey, otherwise known as "Party Girl" and seemingly in a hangover haze most of the time.
She's joined by stock contractor Anna Hunt ("I get dirty and sweaty, and I think that's hot"); aspiring country singer Ali Dee, who also does some on-camera work for the Dallas Mavericks; and barrel racer Brooke Jeter, the only married one of the bunch. Still, she talks like a six-year-old and of course parties hard while her hubby cooks dinner back home. "I'm tryin' to get drunk, OK?" That's all I'm tryin' to do," Brooke says during one of her recurring nights out. And she does know how to pound 'em down. Yahooey.
Fort Worth and Dallas currently offer lotsa culture, too. Art museums, opera houses, unclebarky.com. But any "reality" series about either city invariably gets down to boobs with big boobs or self-absorbed Texas goofballs on the order of former Bishop Lynch High School quarterback and University of Texas extra point holder Matt Nordgren, who humbly considers himself "the whole package" in publicity materials for
Most Eligible Dallas
.
Texas Women
doesn't get around to doing a whole lot in its introductory hour. The "drama" kicks in, ad nauseum, after new roommates Hannah and Anna have a little tiff after drinking "Cowboy Cosmos" at Fort Worth's Reata restaurant. Anna give Hannah a little playful poke in the head with a menu and Hannah responds with a palm-in-the-hand blow to Anna's noggin.
"I was just joking around with her," says Anna. But Hannah doesn't like being "disrespected," so she goes home in a huff. Their little spat is then revisited over and over and over.
"When two bitches get up and leave, they're not comin' back," Hannah later tells dim bulb Brooke, referring to Anna and Ali after the foursome converge to have drinks. But they're soon all happily together again, gettin' rowdy and seemingly smashed at another bar.
Earlier in these proceedings, Ali drops in on radio personality
Kevin McCoy of "The Ranch
" (95.9 FM) in hopes of getting a little airplay for her single. Their meeting is very transparently staged, but his decision to give her a shot is reason for the four women to drink shots and other adult beverages during a celebratory party. Anything to get 'em in a bar, even if the made-for-TV "tension" still runs high between Hannah and Anna.
Any or all of these four women may in fact be likable, nice and even intelligent. But you couldn't prove that after watching the first episode of
Texas Women
. Brooke appears to have the intellect of a cactus plant, Hannah comes off as a slow-on-the-draw skank and Anna's thoroughly full of herself. Ali fares the best as a seemingly decent enough singer who perhaps deserves better than the company of these three.
Not that this matters right now to any of 'em. They're all on TV, and in prime-time no less. So mission accomplished and who really cares how it looks. Texas is the ripest state in the union -- save for New Jersey perhaps -- for continued tall tales of excessively vain, dumb, partying indulgers.
Meanwhile, Idaho is still waiting for its first reality series. And probably happy to be forever standing in line while Texas plays the fool.
GRADE:
C-minus