Discovery's Dallas-set Fast N' Loud offers auto rehab at the friendly Gas Monkey Garage
06/05/12 10:52 AM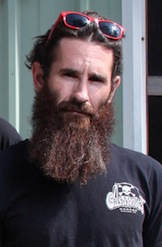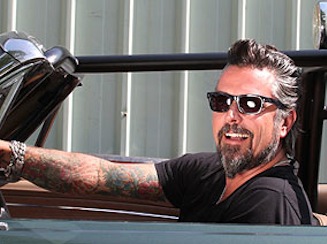 Aaron Kaufmann & Richard Rawlings of Fast N' Loud. Discovery photos
Premiering:
Wednesday, June 6th at 9 p.m. (central) on Discovery
Starring:
Richard Rawlings, Aaron Kaufmann
Produced by:
Craig Piligian, Eddie Rohwedder
By ED BARK
@unclebarkycom
Buy cheap, restore quickly, sell at a handsome profit and repeat.
There's your prevalent cable reality series premise in a nutshell, with Discovery's Dallas-based
Fast N' Loud
spotlighting junked out autos and a pair of bearded entrepreneurs who also could have made a few bucks as extras on History's
Hatfields & McCoys
.
"We turn rust into gold," Gas Monkey Garage owner Richard Rawlings asserts at the outset of Wednesday's one-hour series premiere.
His Michelangelo is scruffy Aaron Kaufmann, who perhaps could hide a few spark plugs in his fulsome facial hair. Together they traipse around Texas and nearby states in search of dilapidated vintage cars that Aaron and his crew can trick up.
There's the usual race to a made-for-TV deadline. Otherwise all will be lost. In this case, the boys must turn an 80-year-old Model A into a freshly painted, newly outfitted hot rod in their workspace at 11276 Ables Lane in Dallas. The big Good Guys swap meet at Texas Motor Speedway is just nine days away and "we're going to have to race the clock every day to get it done," Aaron says with as much urgency as he can muster during the show's frequent talk-to-the-camera interludes.
It's not giving a whole lot away to tell you that Richard and Aaron succeed in this endeavor. Otherwise they'd be amateurs in over their heads, and that's a reality no-no when you're selling viewers on the overall expertise of a show's offbeat stars.
They're allowed to have setbacks, though. That's also part and parcel of the genre before those inevitable sunny skies outcomes -- and just in the nick of time, too.
Richard and Aaron make other purchases during the opening hour, including a '53 Chevy and a Buick Riviera used in the Nicolas Cage movie
Drive Angry
and still outfitted with fake bullet holes. A little history of the cars is thrown in, which is both helpful and helps to fill the time.
The stars of the show get along just fine, but there's occasionally a little soft-serve drama thrown in. As when Aaron lobbies for a more costly rehab while Richard balks a bit as the resident money man.
"This is where we always butt heads," he tells viewers. "Creative vision versus bottom line."
Fast N' Loud
relies a little too much on pro forma talking to the camera. There also are the usual reality series redundancies, with one guy or the other regularly reminding the audience what they're up against, how they really need to make some money on this deal, etc., etc.
Still, the two leads are pretty engaging and the work they do is both impressive and interesting. It all comes down to the climactic swap meet, where Richard names the minimum price he'll need on the beautifully restored Model A in order to "pay the bills and put some money in the bank."
We're heading toward a done deal, of course. But it's some fun getting there and there'll be plenty more cars where these came from.
GRADE:
C+