Showtime's The Love We Make revealingly documents McCartney's post 9/11 musical masterstroke
09/09/11 08:42 AM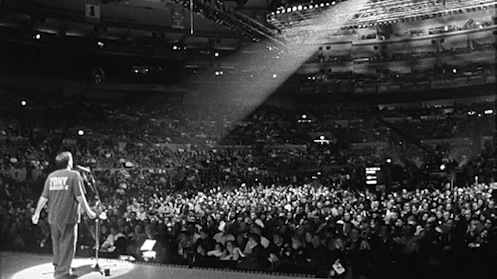 Paul McCartney organized and closed The Concert for New York City.
Showtime photos
By ED BARK
Perhaps you're looking for a keepsake among the many and varied Sept. 11, 2001 anniversary specials coming this weekend.
My recommendation is
The Love We Make
, a new and stellar 93-minute film recapping the eight days leading to The Concert For New York City, an Oct. 20, 2011 magical musical landmark orchestrated by Paul McCartney. It premieres on
Saturday, Sept. 10th at 8 p.m. central Showtime and will be repeated throughout the month.

Filmed and co-directed by the renowned Albert Maysles (Gimme Shelter, Grey Gardens), Love We Make in a small sense is a followup to his 1964 fly-on-the wall documentary, What's Happening! The Beatles in the U.S.A. In each case the subjects were asked to ignore the filmmakers and just act naturally. That was something of a revolutionary concept back then.

McCartney expansively discussed Love We Make and his formative years as a Beatle at the recent Television Critics Association summer "press tour." One refrain got specifically to the point of music as a balm in times of trouble.

"More than words, more than speeches, more than comedy -- which are all important -- music has some property that can really be very healing," he said via satellite from Cincinnati (where he was performing that night). "So yeah, I'm very interested in that whole idea. And I think as time goes on we probably will discover more . . . It can bring you to tears, it can make you smile, it can make you flash back to a memory. You know, people often say to me, 'Thank you for the music. It's the soundtrack of my life.' It's one of the things I'm most proud of, actually, to have lucked out to be in a profession like this where I can help, heal and let people get in touch with their emotions."

McCartney was in New York and on an airport tarmac when terrorist-flown planes hit the World Trade Center towers. His flight to England was canceled, leaving him grounded in New York City and wondering what to do next. The Concert For New York City soon became a work in progress, with McCartney contacting Maysles and asking him if he'd like to film the ramp-up. He agreed and did so, but "nothing ever came of it," McCartney said. So as the 10th anniversary neared, they reconnected and collaborated anew.

"It just seemed like it would be a good opportunity," McCartney said. "We did not put it together and finish it till quite recently."

Mostly filmed in black-and-white, Love We Make begins on Oct. 12, 2001, with McCartney briefly talking to the camera before plunging into a rehearsal of an old Beatles tune, "I'm Down." The film clearly is Paul-centric, but there's a lot to be said for seeing him au natural in a variety of settings.

Everyone wants a piece of Paul, whether it's New Yorkers on the street or interviewers ranging from Dan Rather to Howard Stern.

Rather, now basically a non-person in the CBS News scheme of things, interviewed McCartney for 60 Minutes II, which likewise has been canned in the years since. McCartney initially is skeptical when told that Rather is running late for their interview, but will arrive imminently. He's heard it all before. But it turns out that the delay was caused by an anthrax scare in Rather's office.

He later has a chance encounter with Barbara Walters, joking later that he's glad she didn't mistake him for a mugger.

McCartney also walks the streets of NYC, agreeably signing some autographs and even listening somewhat apprehensively to an apparent street person who basically talks gibberish to him. Meanwhile, a woman is beside herself after sighting him, excitedly phoning a friend on one of those over-sized cell phones of a decade past.

It all takes its toll after a while. This is, after all, the city where John Lennon was shot and killed. "Get me out of here," he even-handedly tells his elderly chauffeur, George. He then re-calibrates by telling himself, "And -- relax."

McCartney's taxi cab confessions -- even though he's not in one -- can be fascinating. We learn that his father adamantly refused to have his picture taken because he didn't like the way he looked. And that McCartney became a big Yankees fan after he sat "in those amazing seats (Saturday Night Live creator) Lorne Michaels gets behind home plate."

Rehearsals and more interviews also are a constant. It's terrific fun seeing McCartney mess around with "Fly Me to the Moon," ending with a Frank Sinatra-esque "Do be do be do." He also practices "Let It Be" on the piano in tandem with Billy Joel before The Who's Pete Townsend pops in to demonstrate that he's a man of very few words.

A bit later, Rather's producer is instructing McCartney where to walk and what to do before a second interview for 60 Minutes II kicks in. "It's ring-in-the-end-of-the-nose time," McCartney says. "Just stick a hook in it, pull me around."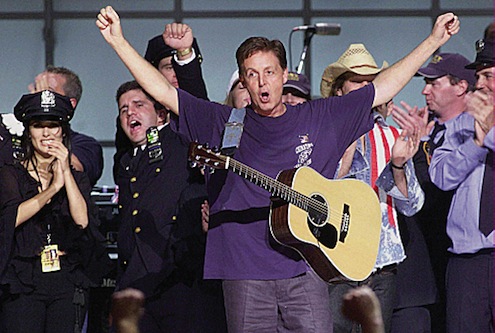 And in the end . . . McCartney closes the show, which raised more than $20 million for the victims and survivors of Sept. 11th.
As the film progresses, the star power escalates. Mick Jagger is seen only fleetingly behind-the-scenes, and David Bowie isn't seen at all before taking the stage at Madison Square Garden to perform Simon & Garfunkel's "America." But the "green room" where McCartney hangs out before closing the show becomes a passing parade of Eric Clapton, James Taylor, Jodie Foster, Jim Carrey, Sheryl Crowe, Harrison Ford, Bill Clinton and so on. McCartney and Elton John, who precedes him onstage, share a kiss on the lips during their brief criss-crossing.
Clinton, whose notably bulbous nose looks red even in black-and-white, is typically gabby and somewhat immersed in his first-person self.
He twice notes that he's in the same age group as many of the music stars who performed at the concert. "You can say whatever the hell you want about the generation of the '60s. But we were good at hangin' in there," Clinton proclaims.
Snippets of the performances are shown in full-color, making one long to see the entire show. And Maysles cheats viewers out of Roger Daltrey's primal trademark "Yea-h-h-h-h!" near the close of The Who's "Won't Get Fooled Again." Instead he cuts back to the backstage goings-on. It's his only seriously questionable editing decision.
Still, this is a remarkable and valuable film, documenting a McCartney-led rallying cry during severely shaken times. It ends as it should, with the star of the show visiting a fire station three days after the triumphant concert. Floral arrangements and pictures of the deceased line the sidewalk outside. And those are the final images.
GRADE:
A