Embarrassment of excesses: the annual White House Correspondents Association dinner
04/30/12 09:03 AM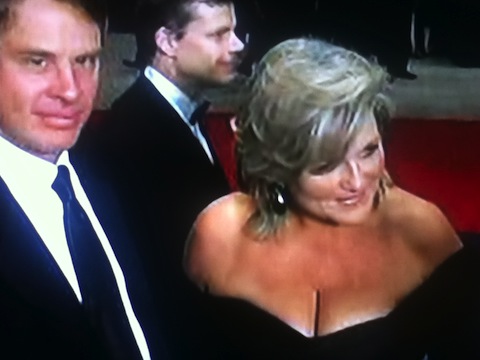 Nightline co-anchor Cynthia McFadden shows off her credentials while on the red carpet at Saturday's White House Correspondents Association dinner. Colleague Terry Moran looks on. Photos: Ed Bark
By ED BARK
@unclebarkycom
The "Fair and Balanced" news network gave equal time to Lindsay Lohan and Kim Kardashian, inviting both to Saturday night's White House Correspondents Association dinner in Washington.
White House Correspondents? That's something of a really big joke these days at what's now derided as "prom night" for the people who allegedly cover government goings-on.
Close watchers of C-SPAN's annual feed could still glimpse ancient mariners such as Bob Schieffer, Ted Koppel and Charlie Rose. But Lohan and Kardashian were much more representative of what the event's become. As was one of Koppel's successors, Cynthia McFadden, nearly spilling out of her ball gown while escorted along the red carpet (red carpet?) by another of the program's anchors, Terry Moran.
The new and considerably lighter weight
Nightline
is doing very well in the Nielsen ratings opposite the first half-hour of Jay Leno's
Tonight Show
and David Letterman's
Late Show
. So ABC News isn't about to apologize for content that Koppel never would have considered.
Koppel for the most part has been diplomatic, but did tell Seattle's KOMO-TV last fall that "it's no secret they have become hugely successful because they are doing precisely what I didn't want
Nightline
to do. It's become a show that's heavily oriented into entertainment, more than it is in the direction of information and news."
The White House correspondents dinner, which Koppel still somehow can't resist attending, crystallizes what he's talking about. Presidents are expected to deliver a comedy monologue, and
President Obama was pretty much up to that challenge
.
The night's designated court jester, in this case Jimmy Kimmel, is then expected to be funnier than the president. Which Kimmel may have been in sporadic bursts before over-staying his welcome, getting unduly personal and increasingly telling his jokes at a near-auctioneer's pace. Obama had comedic timing, deftly pausing for effect. Kimmel too often
performed his hit-and-miss material
as though he had only until midnight before his tux turned into a leisure suit.
All of this is no doubt C-SPAN's most-watched program of the year. But the public service cable network doesn't have commercials and doesn't subscribe to Nielsen. So in the end it's anyone's guess how many watched this Washington carnivale, in which the Hollywood contingent held sway while politicians and members of the media scrambled to pose for pictures with the likes of Lohan, Kardashian, cast members of
Modern Family
, cast members of
Glee
, George Clooney, Goldie Hawn, Steven Spielberg, Zooey Deschanel, Reese Witherspoon, Charlize Theron, Mary J. Blige, Claire Danes, Rashida Jones, Fred Armisen, Eva Longoria, Diane Keaton, Pierce Brosnan, Kelly Ripa, Martha Stewart, etc.
All were invited by various media outlets to sit at their tables. And they call the Golden Globes ridiculous.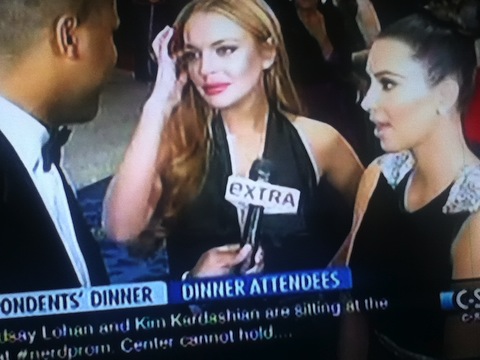 Dumb and dumber were the featured guests of Fox News.