Still flush with "dynamic stability," CBS stays with crime, shifts some returning shows, proceeds without Charlie Sheen in latest fall makeover
05/18/11 08:23 AM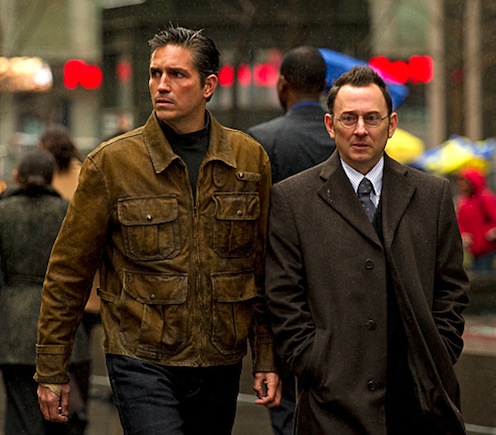 Jim Caviezel & Michael Emerson in new J.J. Abrams "crime thriller."
CBS photo
By ED BARK
More crime -- but with a twist -- and a trio of eye-catching relocations highlight the so-called "dynamic stability" of CBS' new fall schedule.
The No. 1 network in total viewers also is adding a pair of new comedies and taking another shot at launching a long-running hospital drama. But none of the five newcomers is likely to draw nearly as much attention as Ashton Kutcher's insertion into
Two and a Half Men
next season after the show's internationally chronicled misadventures with madcap Charlie Sheen.
Producer Chuck Lorre, repeatedly derided by the banished Sheen, "is over the moon" about working Kutcher into the mix, CBS entertainment president Nina Tassler said Wednesday morning during a brief session with TV reporters. More specifics about the Kutcher character will be disclosed after
Two and a Half Men
resumes production, Tassler said.
CBS' highest-rated comedy will remain in its longstanding Monday 8 p.m. (central) spot on a night that's unchanged save for the addition of the new
2 Broke Girls
as its lead-in.
"We kind of assumed we'd have a show," programming vice president Kelly Kahl said of the earlier uncertain future of
Two and a Half Men
. "Yeah, we had (backup) ideas, but we never really had to go there."
Besides Sheen,
Criminal Minds: Suspect Behavior, The Defenders, $#*! My Dad Says, Mad Love, Medium
and the very short-lived
Chaos
have been evicted. And
Undercover Boss
, which has been employed on Sunday nights, won't return until midseason.
The two biggest shifts of returning series are
CSI: Crime Scene Investigation
's move from the middle of Thursday's lineup to the end of Wednesday's and
The Good Wife's
transfer from Tuesdays to Sundays, where it will air between
The Amazing Race
and
CSI: Miami
.
Rules of Engagement
, which has been all over the place on CBS, will now lead off Saturdays in a half-serious attempt to make that night more than a repository for repeats and
48 Hours Mystery
.
The relocations are notable, but not as drastic as last fall, when
Survivor, CSI: Miami, CSI: NY
and
The Big Bang Theory
all were given new addresses on the CBS schedule.
Here are the network's five new fall series:
Person of Interest
(drama) --
Lost
and
Fringe
maestro J.J. Abrams pairs filmdom's former Jesus and a
Lost
emigre in what's billed as a "crime thriller about a presumed dead former CIA agent who teams up with a mysterious billionaire to prevent violent crimes by using their own brand of vigilante justice." Jim Caviezel (
The Passion of the Christ
) is the legman while Michael Emerson (
Lost
's super-duplicitous Ben Linus) is the behind-the-scenes software genius. Abrams has another new series,
Alcatraz
, coming in midseason on Fox. It also re-deploys a former
Lost
mainstay, Jorge "Hugo" Reyes.
Unforgettable
(drama) -- Poppy Montgomery, who co-starred in CBS long-running
Without A Trace
, returns to the New York crime scene as an "enigmatic" ex-detective with a memory so acute that "every place, every conversation, every moment of joy and every heartbreak is forever embedded in her mind." This also aids her in catching crooks, and she's joined in this pursuit by former
Nip/Tuck
star Dylan Walsh.
A Gifted Man
(drama) -- A brilliant but materialistic and self-absorbed surgeon becomes more compassionate after receiving a mysterious visitation from his noble ex-wife. Entertainment president Tassler says there's a "little
Ghost Whisperer
, a little
House
" at play. Patrick Wilson (
The A-Team, Watchmen
) plays the lead.
2 Broke Girls
(comedy) -- A disparate pair of greasy spoon waitresses bond over the idea of going into business for themselves rather than subsist on tips while working the night shift at the "retro-hip" Williamsburg Diner. Newcomers Kat Dennings and Beth Behrs star as Max and Caroline, who in tandem "just might find the perfect recipe for their big break."
How to Be a Gentleman
(comedy) -- It's adapted from a same-named book, with Kevin Dillon of
Entourage
and Dave Foley (
Kids In the Hall/NewsRadio
) respectively cast as a "rude, loud and sloppy" fitness center owner and the editor of an etiquette column penned by the show's third lead (David Hornsby from
It's Always Sunny In Philadelphia
). The premise: Feeling estranged from "modern society," Andrew Carlson (Hornsby) hires loutish Bert Lansing (Dillon) as his life coach in hopes of devolving into more of a "real man." Otherwise his editor will fire him.
CBS also has ordered the midseason crime drama
The 2-2
, from Robert De Niro's and Jane Rosenthal's Tribeca Productions. It tracks six "diverse NYPD rookies as they patrol the gritty streets of upper Manhattan" without any help from super memories or software geniuses.
Here is CBS' night-by-night new fall lineup, with all times central:
MONDAY
7 to 7:30 p.m. -- How I Met Your Mother
7:30 to 8 p.m. -- 2 Broke Girls
8 to 8:30 p.m. -- Two and a Half Men
8:30 to 9 p.m. -- Mike & Molly
9 to 10 p.m. -- Hawaii Five-0
TUESDAY
7 to 8 p.m. --- NCIS
8 to 9 p.m. -- NCIS: Los Angeles
9 to 10 p.m. -- Unforgettable
WEDNESDAY
7 to 8 p.m. -- Survivor: South Pacific
8 to 9 p.m. Criminal Minds
9 to 10 p.m. -- CSI: Crime Scene Investigation
THURSDAY
7 to 7:30 p.m. -- The Big Bang Theory
7:30 to 8 p.m. -- How to Be a Gentleman
8 to 9 p.m. -- Person of Interest
9 to 10 p.m. -- The Mentalist
FRIDAY
7 to 8 p.m. -- A Gifted Man
8 to 9 p.m. CSI: NY
9 to 10 p.m. -- Blue Bloods
SATURDAY
7 to 7:30 p.m. -- Rules of Engagement
7:30 to 8 p.m. -- comedy repeats
8 to 9 p.m. -- crime drama repeats
9 to 10 p.m. -- 48 Hours Mystery
SUNDAY
6 to 7 p.m. -- 60 Minutes
7 to 8 p.m. -- The Amazing Race
8 to 9 p.m. -- The Good Wife
9 to 10 p.m. -- CSI: Miami