HBO's Grey Gardens finds Drew Barrymore at last in full bloom
04/17/09 11:34 AM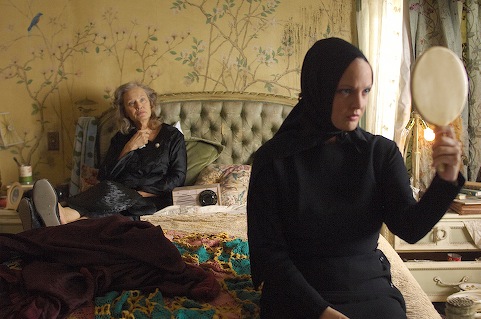 By ED BARK
An actress comes of age in HBO's
Grey Gardens
.
Never mind that Drew Barrymore is now 34 and made her first big impression more than a quarter-century ago in
E.T.: The Extra-Terrestrial
. She finally arrives as a thoroughly adult actress Saturday night (
7 p.m. central
), steeling herself and stealing the film from estimable Jessica Lange.
They're respectively "Little Edie" and "Big Edie" Beale in an expanded version of a 1973 documentary film by the accomplished
Maysles brothers,
Albert and David. It's the story of repressed but rich relatives of Jacqueline Bouvier Kennedy, and their retreat to an East Hampton mansion that gradually decays along with them.
Barrymore's Little Edie has more than a passing resemblance to both the young and the middle-aged Bette Davis. But this is no horror-mongering
Whatever Happened to Baby Jane?
There's no pet parakeet served on a platter, although cats and raccoons eventually have the run of the place, defecating and urinating wherever it pleases them.
The 100-minute film begins in 1973, with the Maysles (Arye Gross as Albert and Justin Louis as David) showing Big and Little L a portion of their work-in-progress film. Then it's back to 1936, with Little Edie balking at being "presented" during a showy debutante ball at New York's St. Pierre Hotel.
Big Edie and her stern, all-business husband, Phelan (Ken Howard), want nothing more than a prosperous marriage for their daughter. Momma's would-be career as a singer/dancer already is being stifled, but she remains convinced -- or deluded -- that Little Edie can have it all.
"Find a man who will give you a long leash," Big Edie counsels.
Phelan has outfitted his wife with a choke collar. Constantly off on business in the city, he resents the company his wife keeps back in their East Hampton mansion. Mainly that's fey George "Gould" Strong (Malcolm Gets), who serves as Big Edie's pianist and vocal collaborator. They love nothing better than to entertain fellow swells at parties. But Phelan wants only a devoted caretaker, "not a showgirl."
Vivacious Little Edie briefly ends up footloose in NYC, living on daddy's money while he tries to strong-arm her into getting married and in the interim at least holding a steady job. Instead she hooks up with former Secretary of the Interior Julius "Cap" Krug (Daniel Baldwin), who's married.
"All I want in life, Mr. Krug, is a dance partner," she tells him. Her ambitions, like her mother's, are to be an entertainer.
Nothing goes according to plan, of course. And a good deal of
Grey Gardens
is about the two isolated Beales succumbing to a co-dependence on one another, all the while denying their increasingly desperate straits. Eventually the health department shows up and the Beales make headlines as Jackie's neglected kin.
A visitation by the former First Lady (played by Jeanne Tripplehorn of HBO's
Big Love
) is the film's one false note. Jackie is suitably gagged by what she sees, but then is almost saintly in her heart-to-heart sit-down with the Beales. Little Edie still resents her for a glamorous lifestyle that she believes should have been hers. Jackie benevolently endures her diatribe before commissioning work crews to rehabilitate the mansion and stave off eviction. There's nary a hint that her good deed might be purely out of embarrassment.
Barrymore is a marvel throughout, both as the luminescent young Little Eddie and the dissipated but still resilient middle-aged version. An Emmy nomination seems like a cinch for a role that Barrymore inhabits from start to finish.
Lange's portrayal of Big Edie is strong without being show-stopping. Her character spends a good deal of time in bed, figuratively licking her wounds while affixed with a set of discolored teeth. It's just not as juicy a part.
Grey Gardens
further separates HBO from the rest of the pack when it comes to making TV movies of merit and distinction. The network also is willing to take chances with first-time directors. This is Michael Sucsy's debut behind the camera, and he definitely looks like a keeper. As does Barrymore. She's hardly brand new anymore, but this could be the start of something big.
GRADE:
A-minus