Roseanne's Nuts falls far short of being even popcorn entertainment
07/12/11 10:43 AM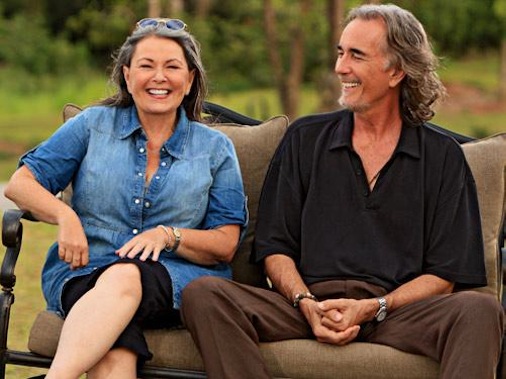 Roseanne Barr with resilient boyfriend Johnny Argent. Lifetime photo
Premiering:
Wednesday, July 13th at 8 p.m. (central) on Lifetime
Starring:
Roseanne Barr, Johnny Argent and other assorted nuts
Produced by:
Roseanne Barr, JD Roth
By ED BARK
It would be more fun if this were a review of
Glenn Beck's Nuts
. Or maybe
Nancy Grace's Nuts
.
But they haven't gotten around to doing those shows yet, leaving TV critics to make do with
Roseanne's Nuts
. Lifetime for some reason has succumbed to 16 episodes of a half-hour series originating from her Macadamian nut farm in Hawaii. She must be doing it for peanuts. Back-to-back episodes premiere on
Wednesday, July 13th at 8 p.m. (central)
, with Lifetime mercifully making only the first one available for review.
It's now been 14 seasons since ABC said goodbye to batty Roseanne Barr's landmark
Roseanne
sitcom. She's since hosted a rather disastrous syndicated talk show and starred in a short-lived "reality" series called
The Real Roseanne Show
.
She met scraggly boyfriend Johnny Argent during the latter concoction, and he's tagging along on this one, too.
"Let's face it, she's challenging," Johnny says within punching range of his girl.
"In what way am I challenging?" she demands.
"You are a total bitch -- sometimes," he says before she's shown yelling at him in video from their previous show. Roseanne then laughs. In the old days, in tow with ex-husband Tom Arnold, she might have belted him with a baseball bat and then spit on him. But Roseanne, 58, apparently has mellowed.
This is a very low-rent proposition, with Roseanne firing a shotgun at a wild, nut-eating pig in the early going before later attempting a "psychic interaction" with her nemesis rather than have it killed for dinner by son Jake and son-in-law Jeff.
It's all very transparently staged, even within the very forgiving parameters of the phony reality realm. How on earth are they going to fill 16 episodes with this stuff? Part of the filler in Episode 1 is a shot of Roseanne relaxing in a short skirt, with her crotch area digitalized. Even the European version isn't gonna want to go there.
Roseanne professes to hate Hollywood and all its phoniness, even though her at times perceptive son notes that she has camera crews following her every move down on the nut farm.
"If I still like this place in a year, I'll stay with it," she tells Jake. For now at least, "the solution to all the world's problems starts with my nuts."
Roseanne's Nuts
lasts for only about 20 minutes per episode after the ads and teases are accounted for. Still, the content is so thin that scenes leading to commercial breaks are repeated immediately after them. Just in case you can't keep up with the "storyline."
Barr is still rolling in dough, or so she says. But her thirst for the spotlight, if not Hollywood's trappings, apparently will lead this onetime comedy giant to do just about anything. Sad. Still, it's no one's fault but hers.
"One of the bastards came over and took a dump right on my front porch," she says of the wild pigs that now serve as her comedic foils.
Roseanne's Nuts
is her way of taking a dump in your living room.
GRADE:
D-minus