In defense of Harry's Law and its right to draw an older audience and live to tell about it (which it didn't)
05/15/12 01:37 PM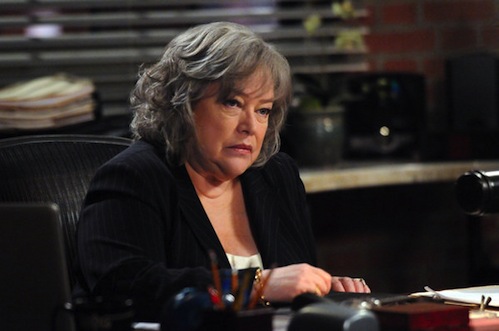 Kathy Bates, 63, star of the canceled Harry's Law. NBC photo
By ED BARK
@unclebarkycom
Racism, sexism, ageism.
No TV network worries in the least about being accused of the latter. And there's really no upside for a TV critic to upbraid NBC for canceling one of its very few hits,
Harry's Law
, because it didn't appeal to the "right" audience.
I run the risk of being perceived as terminally addled, a veritable Gabby Hayes (dated reference), Ward Cleaver (dated reference) or Red Foreman (halfway current reference to
That '70s Show
) amid a sea of
Community
-slobbering coolios.
But what do I care? I'm freakin' 64. And in truth I rarely watched
Harry's Law
during its truncated 33-episode run on NBC, which tried to bury the David E. Kelley law drama from the start but still couldn't hide it from all of those fans of a certain age.
Harry's
ended up averaging 8.9 million viewers per episode before the ax swung. That's a haul exceeded by only three NBC series this season --
Sunday Night Football, The Voice
and
Smash
, which had barely more viewers (9 million) and likely will drop to
Harry's
level after Monday's Season 1 finale audience of just 6.1 million is factored in.
NBC's overall prime-time average this season is 7.4 million viewers, and that's with the Super Bowl included. In other words,
Harry's
exceeded that average by 1.5 million viewers, which is no small number given the broadcast networks' ongoing battles against year-to-year viewer erosion.
Two of the Peacock's renewals for next season,
Community
and
Rock Center with Brian Williams
, averaged a piddling 4 million viewers an episode, making
Harry's
a virtual Gulliver among Lilliputians.
Other NBC renewals dwarfed by
Harry's
included Parks and Recreation (4.4 million viewers an episode);
30 Rock
(4.6 million); Fashion Star (4.9 million);
Whitney
(5.1 million);
Up All Night
(5.3 million);
Grimm
(6.3 million);
The Office
(6.4 million);
Parenthood
(6.7 million) and even
Law & Order: SVU
(7.6 million).
The weekly crowd for
Harry's
also easily exceeded ABC's 8.4 million season-to-date average and matched Fox's.
But in the only audience estimate networks care about,
Harry's
was kissed off as a veritable liver-spotted guy named Hiram at the Teen Choice Awards. That would be advertiser-prized 18-to-49-year-olds, and
Harry
averaged a dinky 1.8 million of those "desirable" viewers. Only
Rock Center
fared worse among NBC series, with 1.2 million viewers per week in this age group.
Community
, which had well less than half the total viewership of
Harry's
, nonetheless drew 2.4 million viewers in the 18-to-49 demographic. Some advertisers pay a little extra "premium" for that audience, even though that makes little sense (or cents) anymore.
Community, 30 Rock, Parks and Recreation
and
Up All Night
are all considered "smart" praiseworthy shows by most TV critics. And I wouldn't really argue with that.
But don't the old folks at home deserve at least one show they can call their own, particularly on a network that's still starved for viewers of any age except on Sunday nights during football season? Has Madison Avenue made a lapdog of every network except CBS?
Even
The Voice
is already tailing off. And
Fashion Star
, with its skimpy 2.3 million 18-to-49-year-olds per episode, was picked up only because it's basically an infomercial for the featured department stores that greatly help to pay its production costs. The show is otherwise worthless from a content standpoint. Kathy Bates' Harriet "Harry" Korn would look at these people and say, "I oughta belt you posers in the head with my three-pound JC Penney purse." And I wish she would.
No other industry except television really works this way. A senior citizen's money counts just as much at the box office as Snooki Ipod's does. Restaurant patrons aren't shown the door because they look too old. On the contrary, they're often prized for being better tippers with more disposable income.
Older people vote for their elected officials in greater numbers than younger people do. And their votes count exactly the same. And so on. If you're a young adult, who'd you rather get a birthday gift from -- rich old Uncle Groucho or your slacker friend, Peabo Penniless?
The Big Four broadcast networks -- NBC, ABC, CBS and Fox -- are supposed to be public trusts operating in the public interest. Except that a huge slice of this country is of no interest at all to them. There oughta be a law (dated reference).
The cancellation of
Harry's Law
-- and the disenfranchisement of most of its 8.9 million viewers -- will end up being of no concern at all to lawmakers who'd rather rail against sex and violence. Ditto most of my TV critic colleagues, who don't want to look as though they're suddenly sprouting ear hair. Figuratively speaking, of course.
Once upon a time, at the end of the 1995-'96 TV season, NBC canceled
JAG
despite the military drama's overall decent ratings in its first season. Its crime? It skewed too old.
CBS snapped it up, ran
JAG
for nine more seasons and used it to launch a little spinoff called
NCIS
. That series, still a ratings kingpin, spawned the very successful
NCIS: Los Angeles
. So 16 years later, CBS is still laughing at NBC's all-time demographic malaprop. Laughing all the way to the bank and the untold millions that those three series have made for their network.
Harry's Law
likely won't find a benefactor. Although if I were CBS I'd slap it onto my Friday night schedule as a compatible lead-in to the network's skew-old
Blue Bloods
. It's already been renewed despite the fact that of its 12.2 million viewers per episode, only a scant 2.6 million are in the 18-to-49 range.
But CBS isn't NBC, even though previous Peacock executives have chided CBS for its lineup of series appealing to viewers "north of Forest Lawn."
CBS has a nice mix now. Its weekly average of 18-to-49-year-old viewers is more than 600,000 ahead of NBC's. And in total viewers, CBS is more than 4.3 million better than the Peacock. It's a far more balanced approach in which series drawing a high percentage of older viewers aren't automatically measured for a coffin.
NBC didn't commit a crime by canceling
Harry's Law
. Still, the network is lesser for it. Dealing out the show's legions of older viewers may make for some dry, smug humor in NBC's executive offices. But it wasn't the right thing to do on the part of a network that symbolically pitted
The Biggest Loser
against
NCIS
in the past season.
Now that's funny.