Time travel palooza with Fox's Making History and ABC's Time After Time
03/03/17 02:12 PM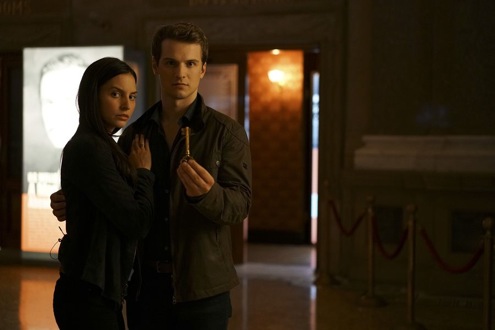 Generis Rodriguez, Freddie Stroma of Time After Time. ABC photo
Premiering:
Sunday, March 5th at 8 p.m. (central) on ABC
Starring:
Freddie Stroma, Josh Bowman, Genesis Rodriguez, Nicole Ari Parker, Will Chase, Jennifer Ferrin
Produced by:
Kevin Williamson, Marcos Siega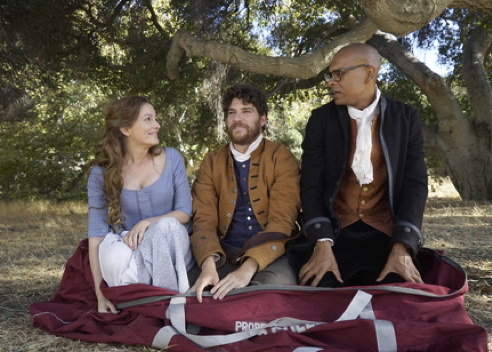 Leighton Meester, Adam Pally & Yassir Lester play around with time travel in the action/romantic comedy Making History. Fox photo
Premiering:
Sunday, March 5th at 7:30 p.m. (central) on Fox
Starring:
Leighton Meester, Adam Pally, Yassir Lester
Produced by:
Phil Lord, Chris Miller, Jared Hess, Seth Cohen, Julius Sharpe
By ED BARK
@unclebarkycom on Twitter
One's deadly serious, the other purely farcical.
They simultaneously hit Sundays shortly after NBC's
Timeless
had its season and possibly series finale in late February.
A little traveling music please. All three series jaunt back and forth in time, one via an oversized red duffel bag. That would be Fox's new
Making History
, a surprisingly bright and amusing half-hour comedy that easily could have gone very wrong.
Dan Chambers (Adam Pally) is a rather dim bulb maintenance man employed at Lexington, MA's Bedford College. But he's heroic, dashing, poetic and thoroughly visionary in the eyes of Paul Revere's daughter, Deborah (Leighton Meester). In reality, Dan just knows how to recycle.
"Deborah, you complete me. You had me at hello," he tells her in Sunday's first episode. Swoon.
Traveling in a zippered, internally wired device perfected by his late father, Dan regularly hooks up with Deborah during his journeys back to 1775 Lexington, where the men are coarse chauvinists and the British remain an occupying army. Stay with me.
Dan's wingman ends up being high strung history professor Chris Parish (Yassir Lester), who loves the colonial period and is aghast that the Revolution for some reason is behind schedule. So he joins Dan in hopes of giving things a jump start. Gag, Lexington has a very foul air to it because of all the manure on the ground. And since vomiting scenes are still epidemic on today's TV, you'll have to get past another unnecessary one before
Making History
stars to hit its stride.
Episode 2 remains in Lexington, with much of its humor triggered by America's long and enduring relationship with guns. Founding Fathers John Hancock and John Adams (John Gemberling, Neil Casey) are portrayed as dolts who spend most of their time drinking in Buckman Tavern while blacksmith Paul Revere is a humorless taskmaster who basically views his daughter as a hired hand living under his thumb.
A pair of subsequent half-hours sent for review take the time traveling to 1919 Chicago, where Dan, Chris and Deborah hope to win enough money to open her dream ice cream parlor in present-day Lexington. An easy way to do this, it seems, would be to make a big bet on the underdog Cincinnati Reds in their rigged World Series matchup with the Chicago White Sox. Instead they run afoul of Al Capone (Tim Robinson), who turns out to be a good deal of fun in his own slam-bang way.
Making History
doesn't get everything right. But the series' principal trio commit themselves fully, with Meester particularly fresh and appealing as a transplanted colonial having the time of her life as a newly liberated woman.
The casting likewise is strong in ABC's
Time After Time
, based on the same-named 1979 feature film fronted by Malcolm McDowell, David Warner and Mary Steenburgen.
In this case, H.G. Welles (Freddie Stroma) is the fresh-faced babe in the woods, or deer in the headlights if you prefer. He's an idealist who's convinced that the distant future will be a blissful utopia compared to 1893 London, where the drama begins.
One of Welles' close friends, Dr. Jack Stevenson (Josh Bowman), knows whereof he speaks when he says that mankind will never change. "We're animals. We hunt. We're hunted," he tells Welles after returning from a fresh kill in his secret guise as the slasher dubbed Jack the Ripper.
Scotland Yard is in hot pursuit this time, though. And the bloody implements of Stevenson's deed are found in his briefcase. This prompts a hasty escape -- to 2017 New York City as it turns out -- in Welles' still untested time machine. When it returns to 1893, Welles gets aboard and pursues Stevenson after seeing the date and year for which the machine was set. He carries with him a "non-return key" that keeps the contraption in place. Otherwise it returns from whence it came, which is why Welles was able to chase Stevenson. Again, stay with me.
Time After Time
's third wheel is comely assistant museum curator Jane Walker (Genesis Rodriguez), who lives alone and has been unlucky in love. The budding relationship between the gentlemanly Welles and the skeptical but smitten Walker is nicely played against all the overriding life and death drama. Complicating things is the suspicious emergence of Vanessa Anders (Nicole Ari Parker), who says she's Welles' great great granddaughter.
The series' principal executive producer, Kevin Williamson, has a longstanding taste for slasher films (
Scream, I Know What You Last Summer
) and serial killers (Fox's
The Following
and CBS' critically reviled
Stalker
). He tamps down the gore in the first two episodes of
Time After Time
(airing back-to-back Sunday night). But the violence toward women is still palpable, with Stevenson thrilled to be fast-forwarded to a world that's immediately depicted as far more violent than the one he came from.
"I belong here completely," he says. Welles is his polar opposite. "There will be no violence," he protests when the Texas-raised Jane gives him her pistol. "The man who raises his fist first is the man out of ideas."
Time After Time
may well have trouble sustaining itself, given all of the near misses and constant escapes in just the first two episodes. Williamson still seems to perversely enjoy putting women in harm's way, with both Jane and a gagged, terrified Macy's employee being held hostage for much of Hour 2.
It's at least an improvement over
Stalker
, though, and in reality what wouldn't be? Stroma and Rodriguez have some sweet getting-to-know-you moments together while Bowman has presence as a menace run amuck. Still, by the end of Episode 2, a dull-edged redundancy is already starting to set in.
GRADES
Making History
-- B
Time After Time
-- C+