Lifetime's Lizzie Borden Chronicles swings hard in the service of making things up
03/25/15 03:49 PM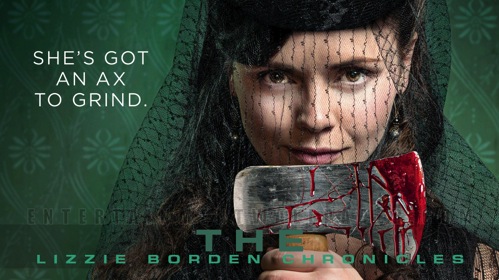 Acting chops: Christina Ricci returns as Lizzie Borden. Lifetime photo
Premiering:
Sunday, April 5th at 9 p.m. (central) on Lifetime
Starring:
Christina Ricci, Clea DuVall, Cole Hauser
Produced by:
Judith Verno, Christina Ricci
By ED BARK
@unclebarkycom on Twitter
Serial killers, both real and fictionalized, are cropping up on TV almost as fast as their respective body counts.
Lifetime seeks to have it both ways with
The Lizzie Borden Chronicles
, an eight-episode series reuniting Christina Ricci with her title character from last year's
Lizzie Borden Took An Ax
. The movie drew 4.4 million viewers, according to Lifetime publicity materials. The series is billed as "an intense and fictionalized account of actual events" in the aftermath of Lizzie's acquittal for the free-swinging murders of her father and stepmother.
Whether or not she killed her parents, the real Lizzie never killed again. But in the Lifetime version of events, it appears as though she's going to "Hulk out" in each and every episode. The first two hours sent by Lifetime feature three murders, all by her. As did Dexter Morgan, she tends to kill those that need killin'. Well, that's an exaggeration. She goes ballistic after being rubbed the wrong way by people who aren't' very nice.
The series picks up four months after Lizzie's 1893 acquittal, with the residents of Fall River, Massachusetts still ostracizing her.
"I'm not afraid of you," says a schoolgirl who'd been jumping rope to the infamous "40 whacks" Lizzie ditty.
"Then you haven't been paying attention," she snarls.
Lizzie remains side by side with her older sister, Emma (Clea DuVall), who's supportive but not much fun. They're still at odds with the late Mr. Borden's business partner, William Almy (John Heard), who vows to leave the two sisters in debt to him.
Lizzie's crummy half-brother, William (Andrew Howard), also is skulking around town looking for "my treasure."
Meanwhile, a handsome but cold-blooded Pinkerton detective named Charlie Siringo (Cole Hauser) is hunting down a bad guy in aptly named Killington Peak, Vermont. Once that mission's accomplished, he's heading to Fall River with the intent of re-proving Lizzie's guilt.
Episode 2 brings Jonathan Banks (
Breaking Bad, Better Call Saul
) into the proceedings as a New York-based powerbroker named Phil Flowers. He runs a prostitute operation among other illegal activities. But he seems willing to do business with Lizzie, who's rescued one of his whores from a beating by a john.
The series frequently deploys pop ballads and heavy metal rock as a backdrop to its killings and sneaky detective work. The dialogue also tends to be contemporary, as when William asks, "Why are you helping me?" and Lizzie replies, "At the end of the day -- which it is -- we're family."
Ricci is 35 now, but still looks young enough to play a college student. Her performance in the first two episodes of
Lizzie Borden Chronicles
is more a collection of telling looks than substantive scenes. In the early going at least, Hauser makes a stronger impression as the doggedly pursuing Siringo, who otherwise has a soft spot for the abused wife of a prosperous hotel owner.
The producers don't spare the blood and gore, revisiting the original scenes of Lizzie's alleged murders early and often in Episode 1. After that it's just a matter of time before she strikes again -- which she didn't do in real life.
A quiet aftermath for Lizzie Borden wouldn't make for much of a TV series, though. An actively violent one doesn't really cut it either -- but Lifetime will take its chances.
GRADE:
C
Email comments or questions to:
unclebarky@verizon.net