Allen plays along in two-part American Masters documentary on his films and times
11/18/11 02:08 PM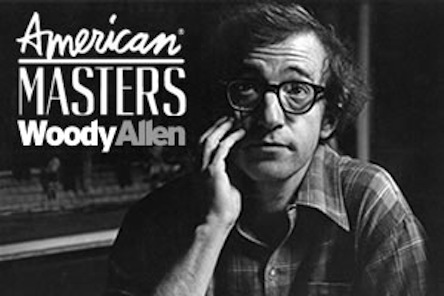 By ED BARK
Lionized in NYC and vilified elsewhere (but certainly not everywhere), Woody Allen remains an acquired taste.
He fully realizes this, and wouldn't have it any other way.
"I'm willing to fail without any problem whatsoever," he says in Monday's Part 2 of
Woody Allen: A Documentary
. "I don't really care about commercial success. And the end result is I rarely achieve it."
PBS isn't about commercial success either. Its three-and-a-half hour treatise on Allen, airing under the
American Masters
banner, is an investment unlikely to be made by any other network. And it surely will be a flop, in pure ratings terms, opposite the likes of NBC's
Sunday Night Football
and ABC's
Dancing with the Stars
.
The two-hour Part 1 begins on Sunday at 8 p.m. (central), with the 90-minute conclusion airing Monday at the same hour. Its director, writer and producer, Robert B. Weide (
Curb Your Enthusiasm
), has the full cooperation of his subject. Which means that the famously publicity-shy Allen actually sits down and talks about himself, even if some central questions remain.
Why has he continually cast himself in his movies? Does he think he's a good actor? How come he's so good at directing women (with Diane Keaton, Dianne Wiest, Mia Sorvino and Penelope Cruz all winning Oscars in Allen movies)? Stuff like that.
Then there's former lover Mia Farrow and her adopted daughter, Soon-Yi Previn, who became and remains Allen's wife. Their secret affair, discovered by Farrow in 1992 when she found nude photographs of Soon-Yi in Allen's Manhattan apartment, became one of the biggest show business scandals ever.
Not surprisingly, neither woman is interviewed for this documentary. But the matter is addressed in some detail Monday night, with Allen more or less joking that the "juicy story," which included a very public child custody fight, at least served to make him a more colorful figure.
"It took a little edge off my natural blandness," he says.
Allen continued to make movies during this period. And in four separate interviews, friends and collaborators (including Keaton) all use the word "compartmentalize" in describing how he's able to focus on the task at hand, which at the time was both the film he was directing and the custody fight he was in. Allen also uses the term.
Farrow acted in 13 of Allen's movies during the time they were together. The first was
A Midsummer Night's Sex Comedy
. The last,
Husbands and Wives
, hadn't yet been finished when the scandal broke. Farrow still returned to complete her scenes with Allen. And he remains a fan -- at least of her on-screen performances in his films.
"She was always easy to work with," the current-day Allen says of Farrow, terming her "an excellent actress with a very big range . . . She never disappointed. She always came through."
The documentary also tracks Allen's early days as a standup comedian who was constantly on television. At one point he even boxed a kangaroo on the British variety series
Hippodrome
. And he used a high-pitched little girl's voice while appearing as the celebrity mystery guest on a 1965 episode of
What's My Line?
.
His managers at that time, Charles Joffe and Jack Rollins, very much believed in keeping their client before the public. Or as Allen now puts it, they wanted him to "seep into the pores of the multitude."
Allen pretty much loathed doing standup, though. And he felt much the same about his first entry into the film world as the screenwriter for 1965's
What's New Pussycat?
, for which he also wrote himself a supporting part as a nebbish named Victor Shakapopulis.
The film became a hit, but Allen hated the experience. "They were taking my script and mangling it," he recalls.
Never again. In 1969, Allen had full creative control over
Take the Money and Run
, which he directed, co-wrote and starred in. Since then he's made one film every year, with the exceptions of 1970, 1974 and 1981. Only lately has he stayed out of them, although his next,
Nero Fiddled
, will include Allen as a character named Mark Lovegood.
Allen, born Allen Stewart Konigsberg on Dec. 1, 1935, is a consummate creature of habit, which the documentary shows. He still pounds out his scripts on a Remington manual typewriter. And his idea of cut and paste is literally to cut and paste -- or staple. Notes and portions of scripts oftentimes are spread out on a bed, as Allen demonstrates. They somehow eventually become a whole.
Allen also is seen vigorously playing his clarinet during those ritual Monday appearances with a jazz band at Manhattan's Cafe Carlyle. He stuck to that regimen on the night he won a directing Oscar for 1977's
Annie Hall
, which is still the last comedy to win as Best Picture.
Other than Farrow and Soon-Yi, the principal women in Allen's films -- and oftentimes his personal life -- are interviewed for the documentary. Keaton, who was his off-screen girlfriend as well, says she instantly had a "crush" on Allen. "My game plan was really to force Woody to like me."
Allen's younger sister, Letty Aronson, with whom he remains very close, remembers that their parents wanted her brother to be a pharmacist. "This is definitely the happiest I've ever seen him," she says of Woody in the here and now.
Chris Rock is interviewed, too, even though he's never been in an Allen film. Nor has any other black actor or actress for that matter, at least not in anything close to a prominent role. Rock says he's a big fan of both Allen's films and his career staying power, calling him "peerless" and comparing him to Babe Ruth.
Allen to this day doesn't like one of his acknowledged classic films, 1979's
Manhattan
. In fact he tried to stop its release, offering to make his next movie for free if United Artists agreed to shelve
Manhattan
, for which the then unknown Mariel Hemingway was nominated for best supporting actress. On the other hand, the widely panned
Stardust Memories
, released in 1980, has long been one of his personal favorites.
"Even the clunkers, there's always something about 'em (worth watching)," Hemingway says. "
Always
."
Allen's latest movie,
Midnight In Paris
, also is his most successful from a box office standpoint. And even Allen agrees, sort of, that it's been a pretty wonderful life for him.
"Despite all these lucky breaks, why do I still feel that I got screwed somehow?" he asks, laughing.
Those are the last words of
Woody Allen: A Documentary
, which also leaves several other questions begging to be answered. Still, it's a work of substance and considerable appeal, with Allen presumably kidding when he says, "The only thing standing between greatness and me is me."
GRADE:
A-minus