ABC's Mind Games loudly shatters the calm
02/24/14 12:59 PM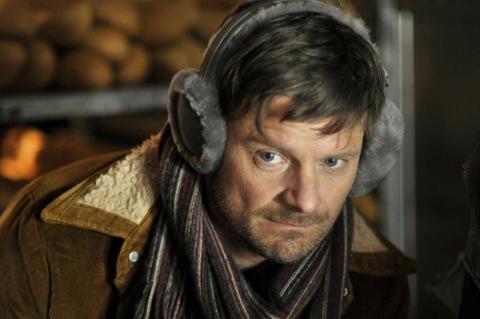 A super-intense Steve Zahn stars in Mind Games. ABC photo
Premiering:
Tuesday, Feb. 25th at 9 p.m. (central) on ABC
Starring:
Steve Zahn, Christian Slater, Megalyn Echikunwoke, Cecric Sanders, Gregory Marcel
Produced by:
Kyle Killen, Keith Redmond, Timothy Busfield, Donald Todd
By ED BARK
@unclebarkycom on Twitter
No network played dead harder than ABC during the 18 nights of NBC's prime-time Winter Olympics coverage.
Now it's time to dig out. But a rush premiere of
Mind Games
, which replaces the failed
Killer Women
two weeks earlier than planned, seems very unlikely to stop ABC's bleeding. Tuesday's ultra-loud opening episode -- no need for closed captioning -- cries out for a mute button whenever co-star Steve Zahn is spewing his frustrations or brain-scrambled theories. Christian Slater nearly matches him in time, making
Mind Games
the most ear-splitting new drama in recent memory. Sonic blasts are quieter.
The series' principal creator is Kyle Killen, whose first two TV series -- Fox's
Lone Star
and NBC's
Awake
-- proved to be demonstrably unsuccessful. Still, both were notably better than
Mind Games
, which just doesn't work on any level. Having Slater as the co-lead also may be something of a death wish. He's been burning through failed series at a furious pace in the past several years, with NBC's
My Own Worst Enemy
, ABC's
The Forgotten
and Fox's
Breaking In
all stacking up since 2008. A good luck Talisman he's not.
This time out, Slater is Ross Edwards, a divorced schemer on the rebound from two years in jail for fraud. His brother, Clark (Zahn from HBO's
Treme
), is in his own words, "extremely bipolar." He's also an exceedingly verbose yeller dedicated to the proposition that behavior can be altered through the power of suggestion. "Simply put, we change people's minds without them knowing we did it," he says. In return, clients of the Edwards' new company are supposed to be charged a fee.
Tuesday's premiere takes a long time trying to make sense of itself. The Edwards brothers keep yelling at one another while a staff of three co-workers struggles to endure the both of them. ABC also has made a subsequent episode available for review, but it's not scheduled to air until March 18th. The network's "notes" to all concerned clearly came down to one simple edict: "STOP THE CONSTANT YELLING!" But although notably quieter in speaking tones (save for a few high-decibel outbursts), the episode is only a marginal improvement from this week's curtain-raiser.
Zahn's pivotal character also is a former college professor who got bounced after his affair with a 22-year-old student named Beth (guest star Katherine Cunningham). He still pines maniacally for her while also bringing in Ross's ex-wife, Claire (guest star Wynn Everett), as their company's new office manager. Ross goes nuts in her presence, but Clark says she's "like a magic feather" who calms him down. Not that you'd ever detect that.
In Episode 1, a heartless insurance company is targeted by the Edwards brothers after a teen boy with a heart condition is denied coverage for experimental surgery that could cure him. The machinations devised to reverse that decision are completely preposterous. And the upcoming "Apophenia" episode is no more believable in its manipulations of a congressman who's reneged on passing a gun safety bill. This serves to drive a further wedge between the lawmaker and his already estranged son.
Things tend to get really sappy during those times when they're not utterly far-fetched. But the most unlikely development of all -- in terms of behavior modification -- would be persuading more than a relative handful of viewers to watch
Mind Games
from week to week. Nah. Ain't gonna happen.
GRADE:
D
Email comments or questions to:
unclebarky@verizon.net