Ambitious Klondike explores new territory for Discovery Channel
01/19/14 11:07 AM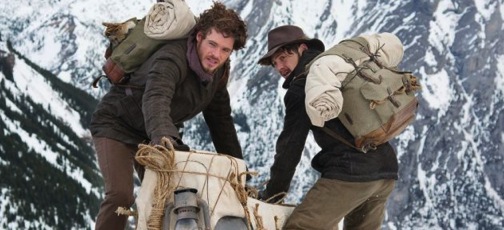 Richard Madden, Augustus Prew are up against it as tenderfoot gold diggers in the three-part, six-hour Klondike. Discovery Channel photo
Premiering:
Monday, Jan. 20th at 8 p.m. (central) on Discovery Channel and continuing at the same times on Monday and Tuesday.
Starring:
Richard Madden, Augustus Prew, Sam Shepard, Tim Roth, Abbie Cornish, Conor Leslie, Ian Hart, Johnny Simmons, Tim Blake Nelson
Produced by:
Paul Scheuring, Ridley Scott, David W. Zucker
By ED BARK
@unclebarkycom on Twitter
The Discovery Channel boldly ventures forth with its first original scripted production Monday, joining other latter day newcomers such as the History network, National Geo, Netflix and Hulu. It does not nickel and dime it.
Klondike
, running for six hours in three parts on successive nights, has a thoroughly authentic look and feel, whether showcasing its picturesque initial mountain expeditions or getting down and decidedly dirty in gold-fevered Dawson City. But the script regularly errs in making laugh-inducing philosopher kings and queens of some characters. As when hard-knocks businesswoman Belinda Montgomery (Abbie Cornish) greets tenderfoot prospector Bill Haskell (Richard Madden) by proclaiming, "Dawson City. Where naivety comes to die."
Madden, the principal star of this ambitious effort, is best known for his portrayal of Robb Stark in HBO's
Game of Thrones
. Struggling to make ends meet, he joins best friend Byron Epstein (Augustus Prew) on a make-or-break excursion to the Yukon, circa 1897. California's been largely denuded of its gold, but Canada is still fertile, the two pals are informed at a bar.
Their journey is arduous, fraught with avalanches, raging rapids and narrative reflections by Haskell. The miniseries is adapted from the book
Gold Diggers: Striking It Rich in the Klondike
by Charlotte Gray. Her non-fiction account didn't include a murder mystery, a British town villain or a budding romance among other things. But the producers go that route in hopes of generating more interest than the mere pursuit of untold riches.
The bad guy, known as "The Count," is played by Tim Roth. He's reminiscent of
Deadwood
's Al Swearengen, except for the copious swearing. Planted firmly on the other side of good and evil is Father Judge (Sam Shepard), an imposing man of the cloth who's also well-equipped with survival skills. "You don't negotiate with nature," he tells Haskell after saving his life. "You either best it or it bests you."
Klondike
was largely filmed in Alberta on a 55-day shoot that looks very arduous on-camera. It rains constantly, turning Dawson City and its surrounding makeshift gold mines into gray muddy eyesores. Nighttime shoots also are plentiful and sometimes pitch black during the four hours made available for review on Discovery Channel's media site. Assumedly these will be color-corrected to somewhat brighten matters.
It's too late to scrub some of the dialogue, though. Particularly for Cornish's Belinda Montgomery, who in Part One gets stuck with, "The world's divided between men who write their mothers, men who don't."
Belinda repeatedly shoots herself in the foot -- with her mouth. In Part 2 she's back at it with a vengeance after spending an initially unintended amorous night with Haskell. He'd better not get any ideas, though, because "I'm too far gone, Haskell. "Too many closed up places in me that need to be opened for something like this to work. Woman needs to be like that up here."
Klondike
isn't always this way. Its one-liners can be nifty in spots, as when a crusty woman cook crows, "I like eatin' critters that wanna eat me."
The miniseries also has some engaging supporting characters in grifter Soapy Smith (Ian Hart) and Haskell's ad hoc mine mate, Joe Meeker (Tim Blake Nelson). Famed real-life novelist/adventurer Jack London (Johnny Simmons) drops in and out to less effect.
Discovery Channel overall gets a passing grade for mounting a drama that effectively captures its period visually if not always verbally.
Klondike
marks a big step forward for its network, which can expect a little ratings gold as well.
GRADE:
B
Email comments or questions to:
unclebarky@verizon.net