NBC's Crisis hopes to captivate by taking a whole classroom hostage
03/12/14 05:38 PM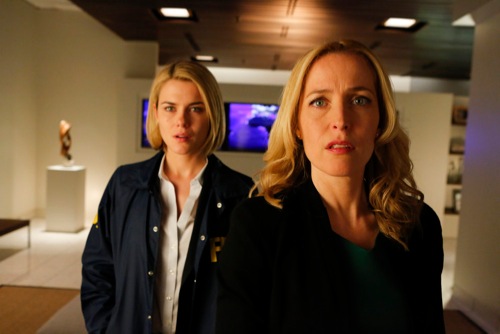 Rachael Taylor and Gillian Anderson play estranged sisters in Crisis.
NBC photo
Premiering:
Sunday, March 16th at 9 p.m. (central) on Fox
Starring:
Dermot Mulroney, Gillian Anderson, Rachael Taylor, Lance Gross, James Lafferty, Adam Scott Miller, Max Martini, Halston Sage, Stevie Lynn Jones, Max Schneider, Michael Beach, Joshua Erenberg, Rebecca Spence
Produced by:
Rand Ravich, Far Shariat, Phillip Noyce
By ED BARK
@unclebarkycom on Twitter
Well, it's always something. And NBC hopes to have Something Really Big with
Crisis
.
It's the drum-pounding, hyper-scored saga of a mass kidnapping. More than two dozen over-privileged kids of Washington, D.C. power brokers are used as bait by forces with a still unknown agenda after the first two episodes sent for review.
Captives include Kyle Devore (Adam Scott Miller), son of the president of the United States, and Amber Fitch (Halston Sage), whose corporate tycoon mom is rich enough to blithely lay out $24 million in untraceable cash if it will get her daughter back. Mother Meg is icily played by Gillian Anderson of
The X Files
fame. She's also been a recurring character on NBC's
Hannibal
.
Crisis
has roughly five times the number of hostages of CBS' ratings-deprived
Hostages
, which ended its 13-episode run earlier this season and won't be invited back. Its overall problem is similar, though. Even with more characters to imperil, can
Crisis
sustain itself over multiple seasons? Or will viewers quickly weary of whatever failed rescue attempts and red herrings await them?
The central Svengali of
Crisis
appears to be ex-CIA agent Francis Gibson, played by the capable Dermot Mulroney. He's outwardly a shaky, spineless sort who's been written out of the lives of both his wife, Janice (Rebecca Spence), and his daughter, Beth Ann (Stevie Lynn Jones), now a captive.
Francis operates under the guise of being a last-minute chaperone on a bus trip that he knows will go awry. His clandestine role quickly becomes clearer once the students are herded into a spacious hideout and then barked at by white-masked captors. Their voices have been altered to make them sound pretty much like the late Phil Hartman's Unfrozen Caveman Lawyer character -- when drunk -- on
Saturday Night Live
. This probably wasn't intentional.
On the law enforcement side, Meg Fitch's kid sister, Susie Dunn (Rachael Taylor), is a hard-driving FBI agent from whom she's been estranged. There's also rookie Secret Service agent Marcus Finley (Lance Gross), a last minute replacement to help escort the school bus on its fateful journey. Marcus takes a bullet but keeps on ticking. Enough so to run off with pudgy Anton Roth (Joshua Erenberg), a 12-year-old who's been advanced two grades and feels like an outcast. He joins NBC's mid-season wave of precocious pre-teens, who also can be found on the new series
About a Boy, Growing Up Fisher
and
Believe
.
Crisis
has some nice scenes between Marcus and Anton in these first two episodes. Meanwhile, back at hostage central, "The Children of the World's Most Powerful Parents" -- as they're billed in media accounts -- are squabbling with one another. A blondie boy named Luke lashes out when his new designer shirt gets ripped in Episode 2. He even calls one of his fellow captives "Food Stamps." This may prompt some viewers to stick around in hopes that Luke's captors will treat him to a hot lead enema in a future episode.
The mood music in
Crisis
can be over-wrought at times -- and downright over-bearing when a male vocalist breaks into "Sometimes I Feel Like a Motherless Child." But the first two hours are nicely paced and eventful, with the ad hoc partnership between Marcus and an initially resistant Susie gaining traction as the stakes increase.
Crisis
will be battling ABC's
Revenge
at 9 p.m. (central) on Sundays while NBC's new
Believe
and ABC's
Resurrection
clash in the preceding hour. Both of the latter two series got off to strong ratings starts with their first episodes, although
Believe
had the advantage of being previewed after Monday's edition of
The Voice
before moving to its regular slot.
As a side note, one-word titles have been very much in vogue lately on the Big Four broadcast networks. Besides
Believe, Crisis
and
Resurrection
, the midseason arrivals have included
Rake, Enlisted, Mixology, Intelligence
and the Season 2 return of
Hannibal
.
The TV critic community thanks them for this. Because it sure beats the hell out of typing
Marvel's Agents of S.H.I.E.L.D.
.
GRADE:
B-minus
Email comments or questions to:
unclebarky@verizon.net